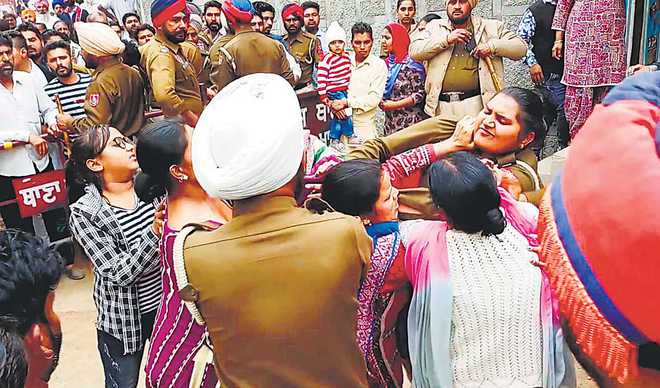 Tribune reporters
Bathinda, February 24
Amid scuffles, Congress candidate Teerth Singh Sweety won the municipal byelection from Budhlada's Ward No. 2. He was polled 877 votes against 607 by SAD's Mukhwinder Singh Subhash.
While the SAD accused the ruling party of misusing the government machinery, its women wing members clashed with policewomen at a booth. Constables Amritpal Kaur and Sarabjeet Kaur were injured and admitted to hospital.
City police station incharge Balwinder Singh said the injured constables were undergoing treatment at the Civil Hospital. "Appropriate action will be taken on the basis of victims' statements," he said.
SAD candidate Mukhwinder Singh and Nagar Council president Harwinder Singh Bunty were also allegedly attacked. They alleged that policemen at the spot failed to act.
Fazilka: The Congress on Saturday won the local municipal council byelection from Ward No. 7 amid allegation of booth-capturing by the BJP. Congress candidate Bimla Rani defeated her rival BJP's Sangeeta Rani by a margin of 178 votes. Sources said of the total 1,313 votes polled, Bimla Rani got 735 and Sangeeta Rani 557.
The election was necessitated following the death of BJP councillor Kanta Rani some time ago. The BJP alleged that the Congress had captured both booths at Guru Nanak Sikh Kanya Pathshalla, where the polling took place. A number of BJP activists, led by former minister Surjit Kumar Jyani, staged a protest outside the school and blocked the Fazilka-Abohar highway.
Muktsar: Nar Singh Rinku, Congress candidate, won the byelection from municipal Ward No. 15 in Malout. Rinku got 1,188 votes, while Rajpal Singh of the SAD got 376 and BJP's Sheela Devi 145. Of the total 2,113 votes, 1,722 were polled. Though Akalis accused the police of favouring the ruling party, the BJP remained silent.
Fatehgarh Sahib: Congress candidate Gurpreet Singh Lalli, a confidant of MLA Kuljit Singh Nagra, on Saturday won the bypoll from Ward No. 10 of the Sirhind-Fatehgarh Sahib Municipal Council. He defeated his nearest rival Sonia Markan of the SAD by a margin of 628 votes. Lalli got 1,002 votes and Markan 374 out of the total 1,389 votes polled.
Moga: Congress candidate Gurpreet Kaur defeated her nearest rival Gurwinder Kaur of the SAD by a 139 votes in the byelection from Ward No. 25 here. This seat fell vacant after the death of SAD councillor Gurdev Kaur a couple of months ago.
Top Stories