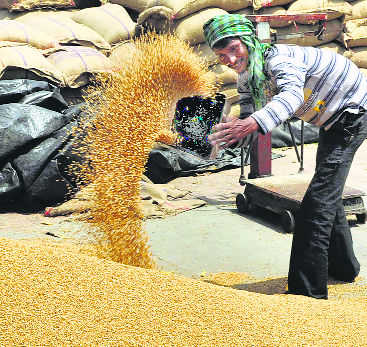 Ruchika M Khanna
Tribune News Service
Chandigarh, August 28
Considering its high foodgrain production, Punjab is pushing itself as the ideal destination to attract the food processing industry, as it gets ready to host the Invest Punjab Summit in first week of December.
For this, the state government is rolling out a red carpet for new investors in the sector. The government is setting up common facility centres in Amritsar, Abohar, Talwandi Sabo and Hoshiarpur to support companies investing in food parks in the state. As of now, three mega food parks are coming up in Fazilka, Ladhowal (Ludhiana) and Phagwara.
If the government efforts to attract the sector take off, it will go a long way in changing the agro-economic dynamics of Punjab. With the agrarian sector crisis continuing, the only way for the state to grow economically is to give value addition to its agriculture produce by promoting the food processing sector. Punjab is not just the biggest contributor of wheat (17 per cent) and paddy (11 per cent) to the Central pool, but is also among the largest producers of fruits and vegetables like peach, pear, muskmelon and peas and radish. The state also leads in the production of milk and honey.
Talking to The Tribune, Rajat Aggarwal, CEO of Invest Punjab, said food processing was a thrust sector for seeking investment, as the state had an abundance of raw material for the industry. "We are offering reimbursement of goods and services tax (up to 200% of the investment in land, building and machinery), exemption in stamp duty, mandi fee, registration fee, change in land use and external development charges. We will also give employment subsidy for anchor units having a minimum investment of Rs 50 crore and 500 employees. The incentives make Punjab the ideal destination, as truck unions, which greatly impact the sector, have been abolished," he said.
In the past two years, an investment of Rs 3,522 crore has been promised in the state. An investment of Rs 1,350 crore is already being made and the projects are under commercial production or ready. Punjab had partnered with the World Food India in 2017, a biennial event to attract the food processing sector, which helped the state get major players like Varun Beverages (PepsiCo), which has invested Rs 800 crore for facility to manufacture juices, dairy based products and carbonated drinks; Sukhjit Mega Food Park that is investing Rs 152 crore for maize processing and Verka Mega Dairy Park being built with an investment of Rs 326. 69 crore.
Upcoming projects
CN Foods of Spain and IFFCO joint venture to buy 1,50,000 tonne of grains from 10,000 farmers for processing. To invest Rs 523 crore.
Ludhiana Beverages (Coca Cola) to expand facility in Hoshiarpur. To invest over Rs 220 crore.
The Allana Group to set up a meat processing facility. To invest Rs 125 crore.
ITC to expand its facility. To invest Rs 121. 7 crore.
Top Stories