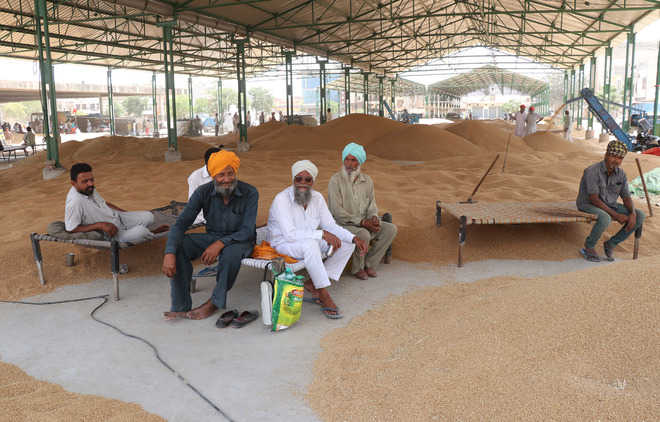 Perneet Singh
Tribune News Service
Bathinda, April 21
The coordination committee of all procurement agencies today started the 48-hour boycott of wheat purchase. Employees of the Food Corporation of India have also come out in their support in Bathinda and Mansa districts.
In Mansa, the decision was reached after the district manager of Markfed and another official was held captive by the farmers at Bhainibagha village. Besides, a Punsup inspector was also held hostage at the grain market in Ubha. The coordination committee said the moisture content in wheat had gone up, following the recent spell of rainfall in the Malwa region, due to which they cannot proceed with its procurement by violating the norms regarding moisture content.
They alleged that the farmer unions and arhtiya associations were unnecessarily putting pressure on them to purchase wheat with high moisture content, making it difficult for them to work. As a result, they have decided to boycott wheat purchase for the next 48 hours. The decision was taken unanimously and the officials of procurement agencies have also informed the higher officials about their decision. The officials alleged that they were being mentally harassed. The field staff of all procurement agencies have urged the DC to call a meeting of the farmer unions and representatives of arhtiyas to sort out the issue.
The coordination committee said they would not be able to make purchase until the district administration ensures that no one misbehaves with the officials of the procurement agencies.
In Bathinda too, officials of various procurement agencies held a meeting at the Markfed office and subsequently demanded from the district administration to stop the farmers from bringing wheat with high moisture content to the grain markets.
They too alleged that the farmers bring their produce with excess moisture to the market and then misbehave with them, putting pressure to purchase the same.
BKU leader Shangara Singh Mann termed the allegations levelled against the farmers as baseless. He said the government should either relax moisture content norms or assure the farmers that it would compensate for the loss their crop suffers, if they choose to delay harvesting to counter the problem of high moisture content.
MC returns wheat
Fazilka: The wheat arrival has picked up in the Fazilka grain market. However, the market committee authorities have been returning the wheat containing high moisture content than the permissible limit. Official sources said nearly 20 tractor-trailers full of wheat containing moisture content ranging between 14 and 16% (permissible limit is 12%) were returned. OC