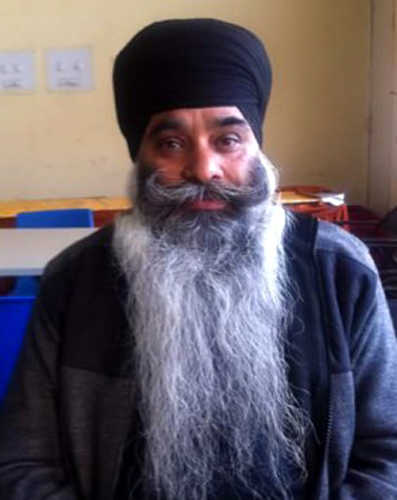 Jupinderjit Singh
Tribune News Service
Chandigarh, November 8
The terror module busted by the state police on Sunday was allegedly operated by Pakistan-based Khalistan Zindabad Force militant Harmeet alias Happy Phd, while the network of all operatives was spread in the UK, France and Italy. Happy's name had figured in the questioning of the members of the previous terror modules also.
The accused whose arrest was announced yesterday — Jimmy Singh of Jammu, Jagtar Singh Johal alias Jaggi and gangster Dharmendra alias Guggni — were being questioned for further leads.
Police sources claimed that the questioning had revealed they operated with a new modus operandi in which sub-groups of the module worked on different aspects of the killings.
The sources said unlike the usual functioning of the Pakistan's Inter Services Intelligence (ISI), this terror module operated with one group arranging the weapons, another radicalising the youths, yet another finalising the targets and conducting recce, while the fourth carrying out the killings.
The questioning has revealed that after the killings, the assailants quietly went about their life. "None of them had a criminal record. They were not known criminals or activists of a specific ideology," said a police official.
Though the police are tight-lipped about the ongoing investigations into the links and activities of the terror module, the sources said the assailants had revealed they were influenced into killing of Hindu leaders by tales of atrocities on Sikhs during 1984 anti-Sikh riots.
They said UK national Jagtar Singh was running a magazine based on the horrific stories of the 1984 riots. "He was influencing youths through social media and his magazines and is learnt to have contributed funds for the whole operation," they said.
The police have claimed that this was the eighth terror module busted by them in the last few months. The module targeted Hindu leaders to cause communal tension.
KLF chief Mintoo questioned
Moga: DGP Suresh Arora along with senior officers on Wednesday interrogated Harminder Singh Mintoo and other accused at the CIA staff, Mehna village. Mintoo, chief of the banned Khalistan Liberation Force (KLF), was brought on production warrant from the Nabha jail. It is learnt that the police have recovered a few automatic weapons used in the killings of Hindu religious leaders. TNS
Shooter in targeted killings on police remand
Chandigarh: The police have identified the shooter responsible for the targeted killings, including those of RSS leaders Brig Jagdish Gagneja and Ravinder Gosain, as Ramandeep Singh alias Raman Canadian. The accused was on Wednesday produced in a Baghapurana court and remanded to police custody for seven days. Ramadeep (28) of Chuharwal, Maherban, Ludhiana, had confessed to his involvement in seven killings and targeted attacks. tns