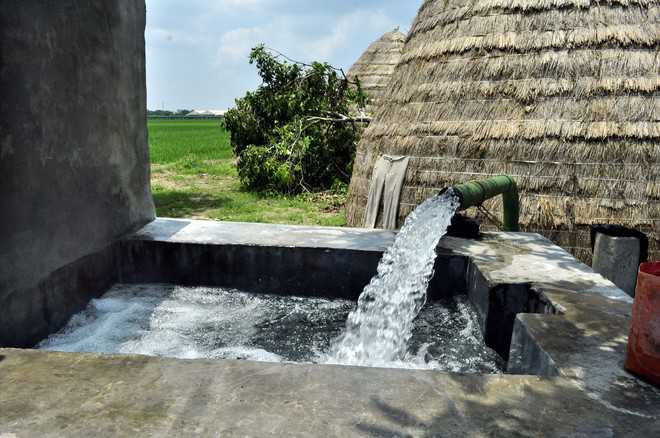 Vibha Sharma
Tribune News Service
New Delhi, January 1
A blanket testing of hand pumps/tube wells, especially private ones, should be the first step in dealing with public health issues due to arsenic exposure in Punjab, a recent study on the Indus Basin region, covering Indian as well as Pakistani areas, has said.
Besides, the Punjab Government needs to concentrate more on northern parts which have "serious" levels of arsenic, along with traces of fluoride and nitrate, in groundwater, said Dr Chander Kumar Singh from the Department of Energy and Environment at the TERI School of Advanced Studies.
The presence of arsenic in groundwater is mostly "natural, from geogenic sources" and prevalent in Indus as well as the Bengal basin. In fact, it extends to most South Asian countries and several studies have been conducted on problem in the past three decades, including mitigation and reducing exposure. According to Dr Chander, this study, covering 13,000 water sources on the Indian side, is the "first large-scale study of this nature".
Twenty-five researchers, including 15 from India, participated in the research— conducted by Delhi-based TERI in collaboration with Quaid-i-Azam University, Islamabad, and Columbia University of New York— on 30,000 hand pumps/ tube wells on both sides of the border.
"The issue needs immediate attention whether by the way of piped water or community RO systems. The question is whether the mitigation is targeted towards affected areas because we found that the majority of RO systems are installed in southern parts whereas high arsenic levels were found to be confined to flood plains of the Ravi river covering Tarn Taran, Amristsar and Gurdaspur districts," Dr Chander, who is the lead researcher of the study, said.
"What the government needs to do is to focus on these areas, test all hand pumps/ tube wells and not just those installed by it. Normally, the government only focuses on its facilities and private wells are not tested. But we see a ray of hope in testing each and every well, including private ones. It costs just Rs 20 per test," he said.
The study found that 87 per cent of households that had hand pumps high in arsenic also had access to private hand pump with cleaner water within 100 m. Normally, in a village of 90 to 100 households (on an average), there would be as many tube wells/hand pumps, but the government would be testing only eight to 10 installed by it.
"Mitigation is only possible if you know the exact level and location of the problem. A similar study in the arsenic-affected region of Bihar found that approximately one-third of the population with high arsenic switched to safe wells in the vicinity as a result of blanket testing," he said.
"Deep wells in Punjab do not look promising in terms of solution as some of these have also been found to have high arsenic levels. We foresee the centralised systems of treated water supply/centralised RO systems as a probable long-term solution, but this should be based on the blanket testing of wells along with proper maintenance."
Indo-Pak Research
30,000 hand pumps/wells under study in India, Pakistan
13,000 water sources on the Indian side under study
25 researchers, including 15 from India, conducted the study
Health concerns
High arsenic levels in water are leading to slow poisoning, potentially causing skin lesions, damage to nervous system, stomach ailments, diabetes, renal toxicity, cardiovascular diseases and cancer
Because of high fluoride content in water, kids are facing dental and skeletal fluorosis, while high nitrate levels are causing gastric cancer, goitre and birth malformations