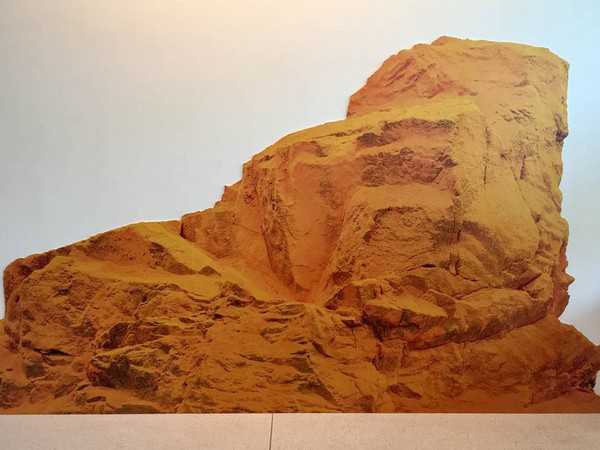 New Delhi, July 13
Imagine a turmeric-filled cliff rock! Such a piece of art was witnessed by the Royal Norwegian Embassy in the national capital, last month.
According to their official website, ' Norway in India', it was a photograph of a cliff rock at the west coast of Norway, covered in turmeric (haldi) powder.
(Follow The Tribune on Facebook; and Twitter @thetribunechd)
The print has been cut along the contour of the rock, so that the work takes on a double role as both sculpture and photo.
The unique work of art, titled '60.220966°N, 4.994361°E,' is the piece by Norwegian artist Erik Friis Reitan, which was first exhibited at the exhibition ' Dwelling Pluralities' at the Kochi-Muziris Biennale, Kerala.
According to the website, the artist imported 20 kilos of turmeric powder from Kochi to Bergen, Norway, and spread it over the cliff rock, rendering it bright orange.
The artist has created a vehicle for the spice to return to its homeland in a new context.
"Spice trade has been, and still is, important to the commercial life of Kochi. The spice trade routes have formed connections between countries and continents, and thus facilitated the movement of culture," described the artist.
The description further said that the turmeric powder used has a special significance and as according to various Indian traditions, the yellow powder from ground turmeric root is used as a spiritual symbol of purification and auspicious beginning, in addition to the strong beliefs of its medicinal qualities.
Though such spiritual practice is not that prevalent in Norway, many of them regard nature as having a certain spiritual potential and meaning, resembling the beliefs of indigenous peoples.
The website comments on the exhibit saying, "When we saw the exhibit at the Biennale, we thought that placing a replica of this work will aptly represent Norway-India fusion in the new Embassy building that itself is Norwegian architecture created with the help of Indian partners.
The piece is now proudly placed in the Ambassador's office."—ANI