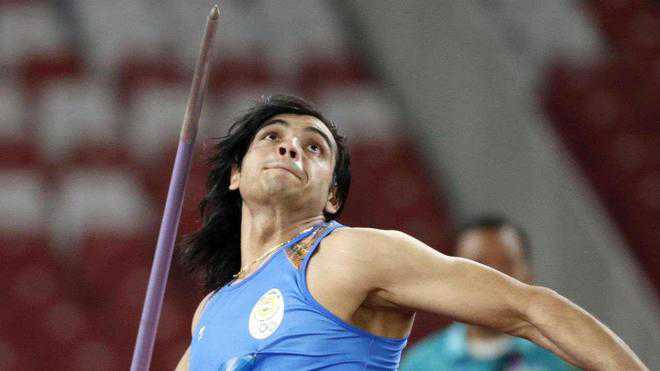 Vinayak Padmadeo
Tribune News Service
New Delhi, May 1
Javelin thrower Neeraj Chopra will undergo surgery to fix the troublesome elbow that forced him to sit out of the Asian Athletics Championships in Doha last month. The Asian Games gold medallist will undergo arthroscopic surgery to remove bone fragments from his right elbow under the watchful eyes of sports orthopaedic Dr Dinshaw Pardiwala in Mumbai.
Chopra spent some time with physiotherapist Anita van ser Lingen in Potchefstroom, South Africa, in February. But he felt the pain in the elbow again and had to pull out of the Asian Championships.
The decision to undergo surgery was delayed by two confusing diagnoses. Dr Pardiwala and a few others were of the opinion that there was no damage to the ligament and hence Chopra needed only the arthroscopic surgery to remove the bone fragments. But backed by a Belgian doctor, javelin coach Uwe Hohn was insisting that the MRI showed his ligament was torn too, and thus it too needed to be operated on. Besides, there were efforts to also seek out non-surgery options.
The Athletics Federation of India (AFI) and non-profit JSW Sports wanted Chopra to be operated on outside India, but Chopra took the decision to get the surgery done in Mumbai. Chopra will be in Mumbai for at least a couple of weeks.
'50/50 for Worlds'
Though it seems unlikely as of now, Chopra has an outside chance to make the Indian team for the athletics World Championships, scheduled to be held in Doha from September 27. Chopra only needs one throw of 83 metres to qualify for the Worlds. If all goes to plan, Chopra will throwing again sometime in August, and that should give him enough time for the World Championships.
"We will do all we can to get him fit for the World Championships," said Manisha Malhotra, JSW Sports' Head of Sports Excellence and Scouting.
But a final call about Chopra's World Championships participation will be taken at a later date as AFI doesn't want to rush him back.