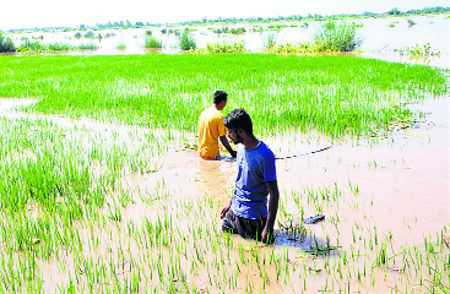 vermaajay1968@gmail.com
Tribune News Service
Ludhiana, August 19
Incessant rains in the last few days have thrown life out of gear in the region. The flood-like situation has created panic among villagers. Overflowing drains and water accumulated in fields have affected paddy, maize and vegetable crops in the region falling under Sangrur and Ludhiana districts.
Owners of fields whose top layer of soil has been washed away are among the worst-affected as waterlogging is likely to cause more damage to their crops.
Meanwhile, office-bearers of organisations working for the welfare of farmers have demanded compensation for losses suffered by farmers of the region.
Farmers led by All-India Kisan Sabha leader Baldev Latala alleged that crops at Dhurkot near Raikot, Lohatbaddi, Barundi, Saraud Ranwan, Badshahpur, Bhurthala Mander, Lasoi and Moranwali villages were damaged to varying degrees due to the overflowing of Rachhin Drain and Lasara drains last night.
Farmers tilling land on rent are the worst-hit. "Though it is not possible to ascertain the exact amount of loss, the government should order a special girdawari without delay so that farmers can be paid compensation," Latala added.
Crops on hundreds of acres in Samrala and Machhiawa region were badly hit due to flooding of fields. In Machhiwara, the worst-hit areas are Garhi Bet, Powat, Majra, Ratipur Bet, Jhungian , Guru Garh and Urna.
Harvinder Singh and Jatinder Singh of Machiwara area said they had suffered huge losses. "We had cultivated vegetables on 10 acres along the Machhiwara-Rattipur road, hoping to earn a livelihood for a year. But our crops have been damaged and we are yet to pay balance amount of rent for land," they said.
Reports of some losses have also come from Manki, Bardhalan and some other villages near Samrala. Crops in Bhourla village near Khanna and in some other villages have also been affected.
(Inputs from Mahesh Sharma, Gurminder Grewal, Gurbaxpuri & Balwant Garg)
---
Huge losses in Moga, Tarn Taran
The flood-like situation due to the release of excess water from the Bhakra Dam has worsened the situation in Tarn Taran district, mainly in Patti along the Sutlej.

Nearly 25 villages along the Beas, known as the Mand area, were submerged. There are reports that crops on 10,000 acres have been washed away.

DC Pardeep Kumar Sabharwal and SSP Dhruv Dahiyavisited the affected areas and assured the residents that all arrangements to provide relief to them were in place.

After the release of the Sutlej water from the Ropar headworks, the situation turned grim in many villages in Moga.

The overflowing river flooded fields in Sanghera, Sherewala, Kambo Khurd, Parliwala, Meharwal, Kaudiwala, and Jhughian villages under the Dharamkot subdivision.

The district administration has set up temporary relief camps for the aggrieved at Bhaini, Khambe, Fatehgarh Panjtoor, Dharamkot market committee and Kisanpura Kalan.