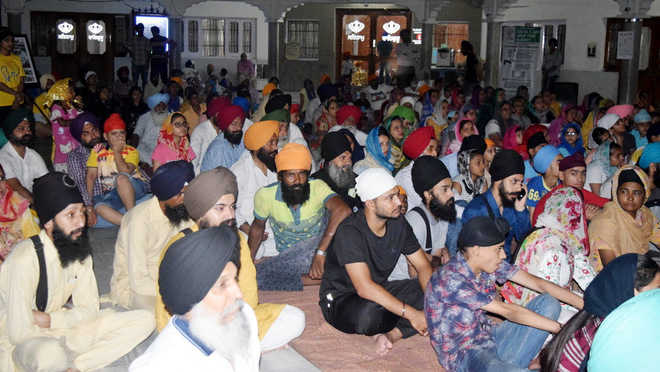 Tribune News Service
Amritsar, June 25
As Amritsar turns 440 years old, EcoAmritsar, an initiative of EcoSikh, has sought the cooperation of the district administration, the Shiromani Gurdwara Parbandhak Committee (SGPC), NGOs and the local residents to come together for a host of activities, including a walk, that will start at the crack of dawn, starting from the Akal Takht Gate at Harmandar Sahib at 6 am.
The Walk for Amritsar will weave its way through the city to reach the Ram Bagh Gardens, where a Citizens' Meet will be held at 8 am to create a dialogue for the betterment of the city. It may be mentioned that the city was established by the fourth Sikh Master Guru Ram Dass on Haad Vadi 13, 1577.
Meanwhile, a short film on environmental issues, "A Little Gardener", was also screened at the weekly organic farmers' market in Ranjit Avenue. Volunteers of the Voice of Amritsar also helped in traffic management at Novelty chowk as part of the activities. "Amritsar is facing severe environmental challenges. The city has been named as one of the 20 most polluted cities in the world and only 1% of the forest area left in its mapped ecology. The purpose of the activities is to engage the citizens actively in the process of re-inventing Amritsar as a clean, green and progressive city. Five years ago, the tradition of AFD celebrations was revived by EcoSikh, and each year, projects are planned and executed for creating a sustainable environment in the city. Plantation programmes are inaugurated, cleanliness drives launched, traffic management and water saving avenues explored. Awareness drives for citizens thrive during this period to ensure the health and hygiene of residents," said Gunbir Singh, president, Dilbir Foundation and EcoAmritsar.
While the district administration, under the stewardship of Deputy Commissioner Kamaldeep Sangha, is providing ample support for the AFD 2017 events, many social welfare organisations such as Baba Kashmir Singh Bhuriwale, Baba Sewa Singh Khadur Sahib, Jatha Bhai GurIqbal Singh, Baba Kulwant Singh, Kesh Sambhaal Sanstha, Art of Living, Dilbir Foundation, Art Gallery, Voice of Amritsar, Khudai Khidmatgaran and the Amritsar Vikas Manch are backing the AFD 2017 with gusto. Ravneet Singh, manager, EcoSikh Programme in India, said, "We need to have a caring attitude towards the city's natural resources. This has to be the moral responsibility of those who live here and those who come to pay respects spiritually. We have to use fresh water with care and use means of transportation which cause less air pollution." EcoSikh president Dr Rajwant Singh said, "It is critical that all pilgrims, who visit the city for spiritual fulfilment, view this entire space and its natural resources like water and air, with reverence. We have to leave positive footprints."
"We are thankful to hundreds of residents who have come out to join this movement and they have become active to restore the glory of this historical city. Over 100,000 visitors and pilgrims visit this sacred town every day. We would continue to hope that these efforts ultimately inspire citizens and pilgrims to care for the city's ecology and preserve it for future generations. We encourage the maxim: Amritsar: My City, My Pride, My Responsibility," added Gunbir Singh.
Top News
Government seeks time from Governor for oath-taking ceremony
Handed over medals to BKU chief
Locals, CRPF and police personnel rush to the spot and launc...
Police claim murder pre-planned as Sahil waited for the girl...
Home minister is currently visiting Manipur as part of effor...