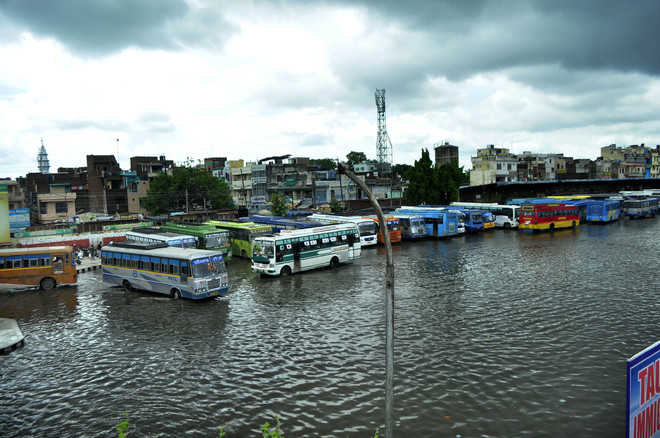 editorial@tribune.com
Vijay Mohan
Tribune News Service
Chandigarh, August 18
After touching a 30-year-high on Sunday morning, inflows into the reservoir at Bhakra Dam in Himachal Pradesh began to subside later in the day. The authorities then decided not to release additional water downstream for the time being.
"The water inflow peaked at 3.11 lakh cusecs on Sunday morning, the highest since 1988," said a senior official at the Bhakra Beas Management Board (BBMB). "By evening, the water level came down to 1.15 lakh cusecs. Since rain in the catchment area subsided, there will not be any further increase in the volume being discharged," he added.
The water level recorded at Bhakra on Sunday was 1,679.5 feet, just a few inches short of its permissible limit of 1,680 feet. The BBMB authorities expect the level to touch the upper mark by 10 or 11 pm tonight. By this time, officials estimate the inflow to drop below 1 lakh cusecs. It will be after eight years that the reservoir, which had almost emptied out last summer due to historically low inflows, will fill up to its maximum capacity.
"We are constantly assessing the situation and we have decided that as of now the volume of water being discharged through the sluice gates need not be raised further. Only the additional water accumulated so far will continue to be released downstream," another BBMB official said.
With the water levels rising rapidly, the BBMB had decided to partially open the dam's four sluice gates to cater for increased inflows. "We are discharging 54,000 cusecs, of which 18,000 are from the sluice gates at the top of the dam and 36,000 cusecs through the power generating tunnels," he added. "The gates have been opened to the extent of only 6 per cent. When fully open, they have the capacity to discharge 3 lakh cusecs."
At Pong, the other major dam in Himachal that lies across the Beas, the water level recorded on Sunday was 1,370 feet against its maximum limit of 1,390 feet. BBMB officials, however, said no excess water was being discharged from Pong and its sluice gates remained closed.
Notably, the region has received bountiful rains over the past 24 hours, covering up much of the monsoon deficiency being experienced by Punjab, Haryana and Himachal Pradesh. Rains in Punjab, which till last week were 15 per cent below the long term average, are now surplus by 5 per cent. With 70 mm rain being received against the normal of 5 mm, Punjab has witnessed an excess of 1,300 per cent over the past 24 hours.