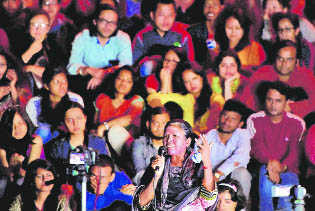 Let's turn the light on ourselves and accept that the Indian media is not reflective of India. More than any other sector, it is dominated by people from the upper castes/class. If we do a head count in some editorial meetings, we will find all Brahmins and other Savarnas, mostly male, making all the decisions.
I have never met an Adivasi journalist operating in the mainstream Delhi media in my 25 years. I have met some who stand out in the field in their regions, but they are still a rarity. It is with this backdrop in mind that I look at the recent targeting of journalists in Chhattisgarh, that's been stepped up in the past year. In February this year, Malini Subramaniam, who writes for the news portal scroll.in. had to pack up and leave her home in Jadgalpur, Bastar, after a month of intimidation. In March, Prabhat Singh, a reporter for Patrika, a Hindi daily owned by the Rajasthan Patrika group, was picked up by the police in south Bastar, beaten and later arrested.
There has been some outrage in the national media over both cases.
But what of Lingaram Kodopi, an Adivasi, who has recently threatened to commit suicide if the harassment by police does not stop? Let's pay some attention to what he's saying, especially after what happened to Rohith Vemula. I would definitely qualify Linga as a journalist, who has in the war zone of Dantewada, been chronicling the plight of his own people. Some of his video stories are available on youtube (dantewada burning1) as are stories about him.
Here's the story of Linga, in brief, in which I am not including the more gory details of police torture he has survived in 2009 including burning objects being shoved into parts of his body. He was then arrested for being a naxalite but the charge did not stick and he was acquitted in court. (He had resisted joining Salwa Judum that was later declared illegal by the Supreme Court).
Sori Soni is his aunt and Linga's current torment has begun after she was attacked with corrosive chemicals on February 20 this year. Images of her blackened face were seen across India and since Soni is now a member of AAP, she was brought to Delhi for treatment. Possibly embarrassed, the state government set up an SIT to investigate the attack on Soni. This SIT is obviously just an eyewash as it's largely been trying to make a case of Soni's family themselves doing this to her. That is why in recent weeks the police have repeatedly questioned Linga and other members of the family and harassed them with summons. They have also summoned Soni's brother in law Ajay Markam and kept him in police custody for a day and a half. All of them including Soni, live in Geedam, Dantewada.
Presumably, the Chattisgarh police would like us to swallow this about Adivasis: when they are not becoming Maoists (or protecting them), they run around having inner family feuds in which they blacken each other's faces with chemicals. They could be putting the chemicals on themselves (there were several insensitive statements after Soni's attack) and could be threatening to kill themselves not because they suffer but because they want attention.
There is a big problem the police have with Linga and Soni, (who's has also had objects shoved inside her during an earlier stint of torture and arrest). They are both locals who cannot be thrown out. Yet, both are linked to journalists and activists across India. Both have them have courageously and poignantly survived to tell their stories in the media and were they to remain alive and free they will continue to do so.
The recent offensive against journalists, lawyers and human rights defenders, suggest preparations for an operation in which the Adivasis - stuck between security forces and Maoists -- will be collateral damage on a larger scale than before. Given past experience, no doubt some villages will be burnt, women will be raped (there are fresh complaints in the NHRC), and off course people killed. Those who conduct this war would not want witnesses, hence targeting of specific journalists who have not swallowed the state line. But what do they do about articulate Adivasis who live in the war zone?
It's almost become a cliché to say that the war is also motivated by the collision of corporate and political interests, so I'm not elaborating. Let me also empathise with what an ordinary soldier posted in this zone confronts. At the same time I must state that whatever justification they may make to themselves, as things go down, the Maoists have made one of the most vulnerable indigenous people of India, into their human shield in this terrible war. Shame on them.
Linga has recently written a facebook post speaking of suicide if the harassment of him and his family continued. He says he does not want to be treated like a dog.
Top Stories