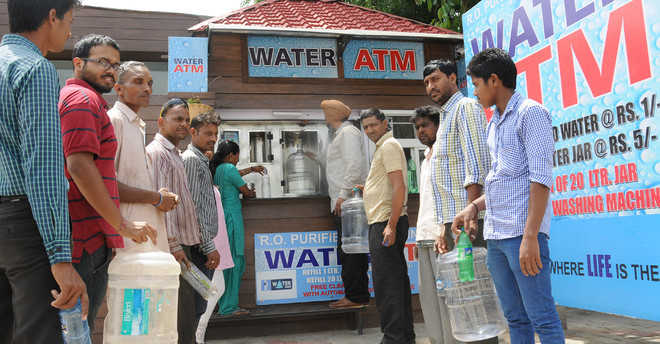 Kuldeep Chauhan
Tribune News Service
Shimla, April 20
The Shimla Municipal Corporation (SMC) and the Solan district administration have decided to launch a jute waste bag scheme for tourists soon to make the capital litter-free. As soon as they enter the Parwanoo barrier, tourists will get these bags, not for free, but they will have to pay Rs 40 apiece.
If things go as planned, the SMC-Solan is also setting up toilets and water ATMs on the highway to facilitate the tourists on their way to Shimla and back under this joint venture. Chief Minister Virbhadra Singh will launch this scheme shortly, said officials.
The Solan administration has given its go-ahead for the SMC's waste bag scheme. "We will give jute waste bags to tourists at the Parwanoo barrier", said Rakesh Kanwar, DC, Solan. "The bags will come from the SMC and we will distribute them to tourists as they enter the state", he added.
The scheme is targeting tourists whose number soars to 75,000 every day during the peak season. It is estimated that on an average, a tourist generates about more than 500 gm of waste every day and Shimla produces about 80 tonnes of waste per day.
The tourists tend to throw away waste, including wrappers, waste packets, used bottles and glasses, along the highway or dump these on the tourist spots during their stay, said officials.
"We will give the waste jute bags to the Solan administration for distribution to the tourists," said Pankaj Rai, Municipal Commissioner, Shimla.
"The tourists, who already have waste bag with them, will not be given these bags. The purpose of the scheme is to cultivate a habit of using waste bins and not dumping it on the highway or in the tourist spots", he added.
The scheme is the part of the SMC to make Shimla a litter-free city. The SMC has launched Swachhta Vahan, a toll-free helpline 1916, as part of the Swachh Shimla campaign for residents to lift the garbage wherever it remains unattended or not lifted by street sweepers.
The SMC claims it has covered about 85 per cent of the households in the city under the door-to-door garbage collection under the Sehb society.
Shimla has leapfrogged from the dismal 292nd position in 2010 to the 27th slot among top 73 swachh cities under a Swachh Survekshan. "We are trying every effort to make Shimla not only litter-free, but also a green and smart destination for tourists around the world", said Sanjay Chauhan, Shimla Mayor.