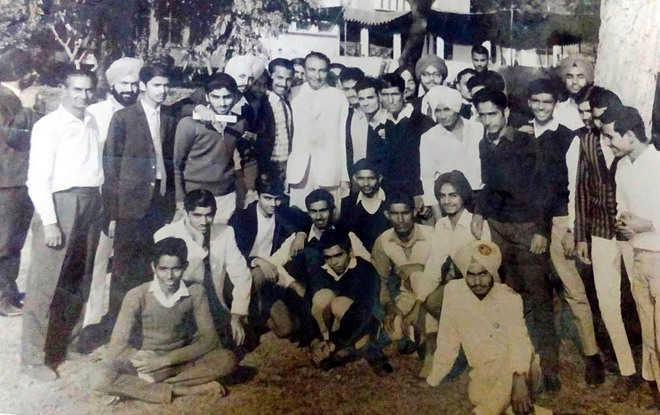 Charanjit Singh Teja
Tribune News Service
Ludhiana, March 8
Though Sahir held his native place close to his heart, adding 'Ludhianvi' to his name, residents of his village seem to have forgotten the legendary lyricist.
People of his native village Sekhewal are even not aware that Sahir was born and brought up in their village. Sekhewal village, which is on NH-1, comes under the Municipal Corporation limits.
There is only an auditorium and a botanical garden named after Sahir Ludhianvi at SCD Government College. Apart from this, no government, NGO, political party and literary organisation has made any effort to construct his memorial.
After moving to Bombay, Sahir Ludhianvi used to visit the city to meet his literary and family friends. He was closely associated with a Punjabi poet, Professor Mohan Singh. During his college days, Sahir was a member of the Communist Party. But apart from his college, no one laid even a single memorial plate in his memory.
Then Punjab Chief Minister Beant Singh released Rs 60 lakh for the construction of Sahir Cultural Centre in 1995. But due to some property ownership dispute, the cultural department cancelled the grant.
Sahir Ludhianvi was born in the Haveli of his father Fazal Mohammad, a landlord of Sekhewal village. He later shifted to his maternal parents' place in the Karimpura area following a marital dispute between his mother and father.
MLA Ranjit Singh Dhillon, a resident of Sekhewal, said: "We are not aware of the fact that Sahir belonged to our village. We will research on this and try to make a memorial to the legendary lyricist".
Dr Amarjeet Singh Hayer, a writer and alumnus of SCD Government College, said: "Residents are not keen on knowing about Sahir, who made the city proud. It is a false propaganda that Sahir was rusticated from his college for fraternising with a female student on the principal's lawn. Sahir was associated with communists and was president of the student union of the college. He raised the voice against collecting war fund from students by the British principal. So, he was expelled".
AAP celebrates birth anniversary of Sahir
A function was organised by thet Aam Aadmi Party at its zonal office in BRS Nagar to celebrate the birth anniversary of Sahir. The Ludhiana Zone Coordinator of the party, Col CM Lakhanpal; general secretary of the Kisan and Labour Wing of Punjab Ahbaab Singh Grewal and Ludhiana Zone Booth Coordinator Arun Bapat, along with other office-bearers of the party, paid rich tributes to Sahir.
Top Stories