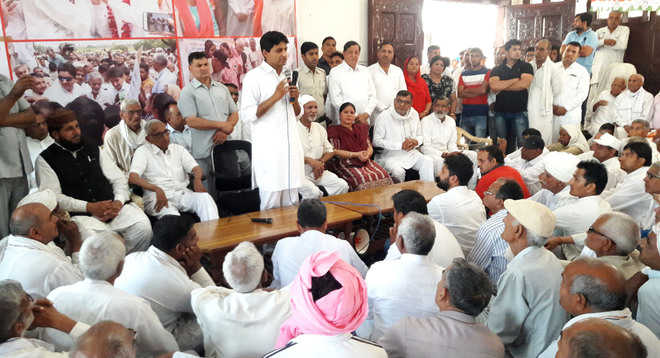 Tribune News Service
Rohtak, April 20
Sitting MP and Congress nominee Deepender Hooda on Saturday said the status of martyr would be accorded to slain paramilitary personnel and their families given facilities on the lines of the Army if the Congress came back to power.
He was addressing a panchayat of retired paramilitary personnel organised by the Confederation of Ex-Paramilitary Forces Welfare Association at Chhotu Ram Dharamshala in Jhajjar on Saturday.
"I had raised issues of paramilitary forces like one-rank one-pension, restoration of old pension and GST exemption for Central police canteen on the lines of Canteen Store Department in the Lok Sabha several times," said the MP.
He asserted that he would continue to raise the voice of paramilitary personnel in the Lok Sabha till the government fulfilled their demands.
Deepender pointed out that he had got a group centre for paramilitary forces in Jhajjar sanctioned by the previous UPA government.
He said the foundation stone of the project had been laid, but the BJP put the project in cold storage on coming to power in 2014. There was a provision of a hospital and central school in the group centre, he added.