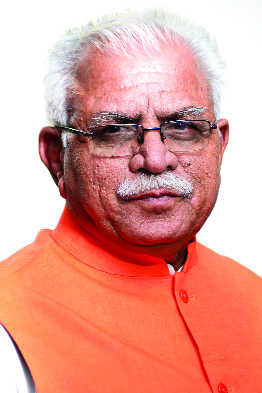 Sushil Manav
Tribune News Service
Chandigarh, October 29
Five men, including a physically challenged auto-rickshaw driver, were attacked by self-styled "gau rakshaks", cow vigilante groups operating in Haryana, earlier this month on the suspicion that they were carrying cow meat.
The police booked the five victims—Isaan Mohammad, Shahzad, Shakeel, Sonu, and Azaad Mohammad—under the Haryana Gauvansh and Gausamvardhan Act of 2015, though laboratory tests later revealed that the seized meat was of buffalo and not cow or its calf.
On June 23 this year, a minor Muslim boy was stabbed to death and four others were injured on board a Mathura-bound train when an argument over a seat turned into religious slurs and triggered a mob attack on family members returning home from Eid shopping. The attackers repeatedly called them "beef eaters".
On June 2, members of a cow vigilante group stabbed a college student, mistaking him for a journalist in Gohana town of Sonepat district. Earlier, on April 5 this year, Pehlu Khan (55), a dairy farmer from Nuh district of the state, was killed by vigilantes for allegedly smuggling cows.
Such incidents have been happening regularly ever since the BJP led by Manohar Lal Khattar came to power in the state in October, 2014.
Education Minister Ram Bilas Sharma has gone on record saying that cow vigilante groups have come into being as a result of awakening among "cow lovers" and these groups have the full support of the Haryana government.
In 2015, the state Assembly unanimously passed the Haryana Gauvansh Sanrakshan and Gausamvardhan Act, 2015, making cow slaughter punishable with a rigorous imprisonment up to 10 years and a fine of Rs 1 lakh.
The government has also set up a Gau Sewa Ayog with Bhani Ram Mangla, himself a Gau Sewak, as its chairman. Mangla has declared that the Ayog will issue identity cards to gau rakshaks, thus giving them a legal sanctity.
Section 16 of the Haryana Gauvansh Sanrakshan and Gausamvardhan Act, 2015, clearly states that only a "police officer not below the rank of Sub-Inspector or any person authorised by the government" has the authority to "enter, stop and search any vehicle" or premises, and seize cows over suspicion of illegal slaughter or export.
However, cow vigilantes can stop any vehicle on the suspicion of cow meat being carried and lynch people at will.
Sources say that the evolution of cow vigilantism into what it has become today is historically attributed to the rise of Hindu nationalism and the ruling BJP in the country.
Such extreme-right Hindutva groups have grown exponentially in strength and audacity after the BJP's unprecedented success in the 2014 Lok Sabha elections.
In Haryana, too, the activities of cow vigilante groups have increased ever since the BJP led by Manohar Lal Khattar came to power.
Though Prime Minister Narendra Modi had once spoken against the activities of cow vigilantes, no state BJP leader has ever condemned their acts.
Top News
The survey said the pace of price increases is not high enou...
81-year-old is currently lodged in a Jodhpur jail, where he ...
Was addressing the joint sitting of both Houses of Parliamen...
Baljinder Singh and Harpreet Deol Both are Pentecostal pasto...
135 people were killed in last year's suspension bridge coll...