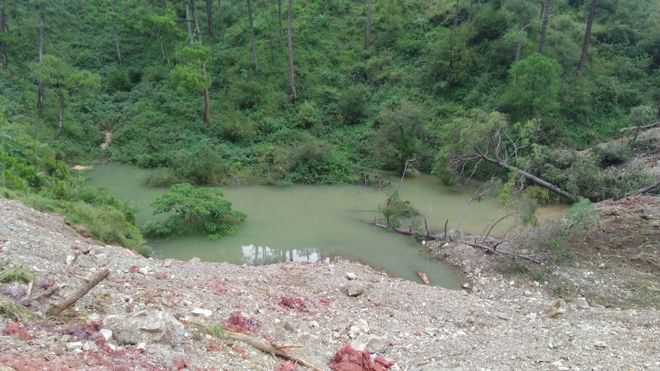 Dipender Manta
Tribune News Service
Mandi, August 16
The Mandi administration today evacuated five villages near Kotrupi as after a massive landslide on August 13 a lake has been formed in the upper side of villages. The Kotrupi landslide killed 46 people.
Mutilated body of one person was found today from the site, where earth moving machine and workforce of the NDRF and police are engaged in digging work to locate the bodies.
Deepti Mandhotra, SDM, Jogindernagar, said that out of 46 bodies that have been recovered, 45 have been identified. The landslide wiped out one village, while threat looms large over five nearby villages because the flow of Rupi Nullah has been blocked after the disaster and a lake has been formed.
Ex-pradhan of Gram Panchayat Urla Tek Singh said five villages -- Saraj Bagla, Badvaan, Ropa, Sharsti and Jagehad -- had been vacated in view of the safety concerns..
People, who have lost their houses, property and agriculture land in this mishap, are suffering a lot. Sita Ram, native of Kotrupi, said he had lost his house and was now forced to spend nights along with his eight family members in a room.
Dula Ram, another affected person, said he had lost his two-storey house, cattle and 37 bigha agriculture land. Now he was staying with his relatives. "My name was listed as affected but I am still waiting for compensation," he said.
Additional Chief Secretary Tarun Shridhar said, "We are taking opinion of geologists so that danger from artificial lake could be averted."
"The team of geologists is there to ascertain the cause of landslide and after finding any solution, corrective steps will be taken. Our first priority is to rehabilitate the affected people and find solution for their apprehensions," he said.
Meanwhile, the DC has cautioned people not to crowd the site as it was hamperinmg the search operation. It has come to the notice of the administration that some people are reaching there only to have a look at the spot.
The teams engaged in relief and rescue operations are facing difficulties in executing their work, he said, adding the people to cooperate with the authorities.