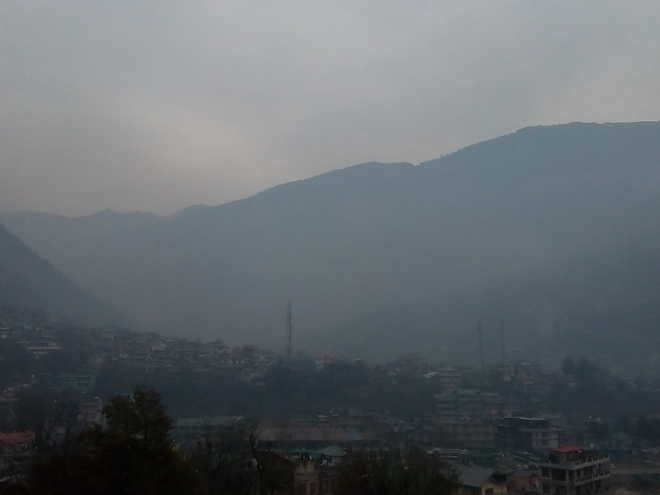 Dipender Manta
Tribune News Service
Kullu, January 13
For the past few days, a forest fire smog has choked the Kullu district. It is especially harmful to children, senior citizens, and those who are suffering from asthma or pulmonary disease.
The district was facing the problem of winter fire every year. People lit fire in dry grass area in the vicinity of forest to clean the grass. They generally do this during long dry spell of winter season to clear the grassland near forests, which sometimes damage the forest property.
These days Kullu was covered under a thick blanket of smog, because at many places people were silently putting ground fire to clear the grassland.
According to medical experts, forest fire smog directly affect the health of those patients, who were suffering chronic asthma and pulmonary diseases, which require immediate attention to take some preventive measures to reduce the bad effects of smog.
Sushil Chander, Chief Medical Officer, Regional Hospital Kullu, said the smog directly pose health hazard to patients suffering with cardiac and lung diseases, which require some preventive measures to reduce the ill effects of smog.
He said person with heart and lung disease were at more risk like, chronic obstructive pulmonary disease and asthma. Besides, children and persons with diabetes and pregnant woman need more care because it can affect both mother and the developing fetus.
He said patients were advised to stay indoors and keep themselves warm to avoid direct impact of smog on their health. Smoke is made up of a complex mixture of gases and fine particles produced, when wood and other organic materials burn.
The biggest health threat from smoke is from fine particles, which can penetrate deep into lungs may cause chronic heart and lung diseases in a person.
Kullu Conservator of Forest BL Negi said in winter dry spell people lit ground fire to clear dry grass, which sometimes caught fire in cheer trees. However, this year no major forest fire incident was reported till now and authority was taking a close vigil to check the menace.
Village-level monitoring committees have been constituted to aware people about the ill-effects of wildfire on the health of residents. He said if any person was found involved in fire incident, action would be taken against him.