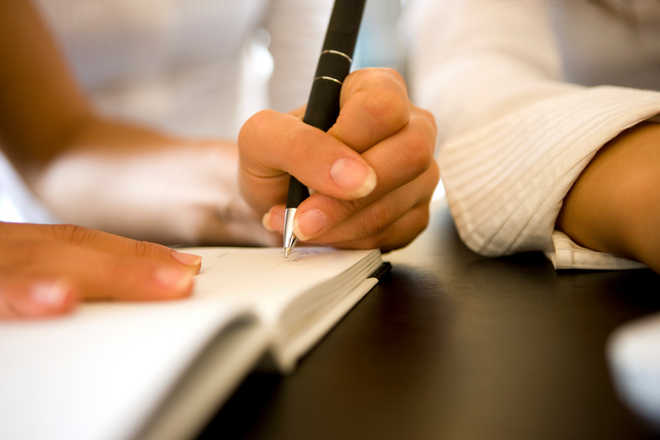 HS Dimple
EVEN as the dim hope of 'good days will come' has nearly shattered, the bright memories of the good old days revive sometimes. The other day, while going through old documents and books lying in the almirah, I came across an old diary with brittle pages — pages after pages of notes, memories and reminders jotted down by my father as a habit. As I delved deeper into the diary, I found it a beautiful reminder of the social, economic and political situation of yore.
One page was devoted to monetary account, and one to non-monetary. The monetary page reflected the debt and credit with friends, relatives, even siblings. The borrowings and lendings are in annas and paise. The maximum debt or credit per person is 50 paise — or 8 annas. In non-monetary account, there is mention of two English novels borrowed from Ujagar for reading on 16-06-1958, one returned on 14-2-1959, while the other on 18-11-1960. The books are Pride and Prejudice and Charles Dickens' Oliver Twist. A black coat was lent to Pukhraj, which was never returned, as per the diary!
The diary reveals the barter system in vogue in villages. On 18-06-1961, a buffalo was purchased by giving 25 quintals of wheat to one Gandha Singh. On 19-03-1966, my father, who wrote the diary went to 'shehar' Jagraon from Akhara, our ancestral village, for domestic shopping. He bought half a dozen Lux soap bars for Rs 3; gave an anna to the cobbler for mending his shoes. Another entry shows Rs 3 was spent on buying 14 pocket-size novels, including Emma, Great Expectations, Tess, Lady Chatterley's Lover, Catch-22, 1984, Sons and Lovers and Kim. The others were detective and mystery novels.
At one place, in red ink, there is a mention of an interview with famous folk singer Lal Chand Yamla Jatt to be broadcast on Akashwani Radio at 4 pm. The page is folded to reinforce the reminder, and a small page also placed as a makeshift flag in the diary. This is to be heard on the radio in the house of one Mulakh Singh.
Some entries point to the passions and obsessions of the people of those days. On the last page are the names, fathers' names and village names of the friends of my father, along with their hobbies. While Harbans Singh was a lover of poetry and politics, Gurmel's hobby was watching and playing kabaddi. Ujagar was fond of collecting postal tickets and Rakesh used to read Hindi, English and Punjabi novels.
I too maintain a diary, but the friends' list is on my mobile phone. Every friend is just a call away. We are in touch with one another through WhatsApp, Twitter, Instagram, Facebook, but the warmth, depth and intimacy of love, found in the friendships of yore, is deficient. We are 'too close' to feel the intimacy!
Top News
The accused ASI was nabbed by local people, who then handed ...
Two frontline combat aircraft of the IAF crashed during a tr...
Gandhi was accompanied by his sister and Congress general se...
PM Modi also appreciated people for eating food items made o...