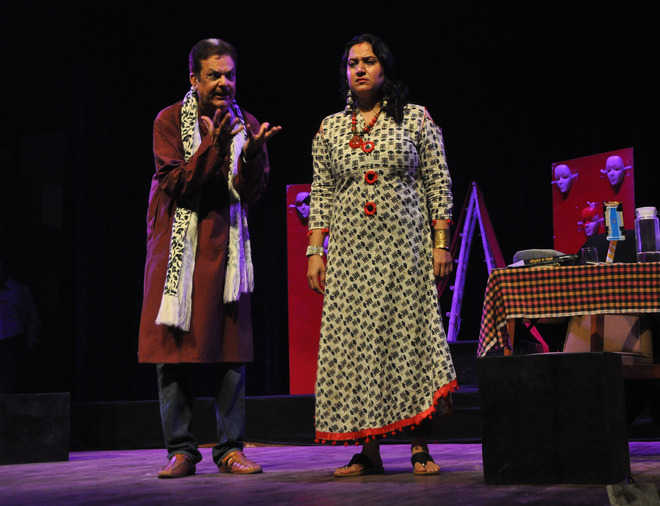 ROBINSINGH@TRIBUNE.COM
SD Sharma
Chandigarh, August 18
The Amritsar-based drama ensemble GSK Productions presented a Punjabi play "Abhisarika" on the third day of the week-long Theatre festival of young directors organised by the Punjab Sangeet Natak Akademi at the Randhawa auditorium here today.
Written by legendary playwright Balwant Gargi and directed by Amarpal, the play was an exploration into the psyche of a divorced theatre actress Ranjana who had a fascination to love men other than her husband.
The play theme had been Inspired by sage Bharat Muni' s description of eight type of Nayikas in his Natyashastra and Balwant Gargi had sculpted this play with the motif of love in all its manifestations. The play goes on to illustrate that love sees no boundaries, no limits with its elemental experiences of the recurrent joys, and woes as also its mysterious denials.
The protagonist Ranjana (Meenu Sharma), a divorced theatre artiste gets involved with the director of a theatre group but gradually she begins to fall for the lead actor (Gulshan Saggu) with whom she acts in plays.
However, in the end, she reveals that she loves both the men at the same time with the same passion but they, especially the theatre director (Vijay Sharma), who is already married, takes her for granted as his. His worries compound as his devout wife Malti (Kajal Sharma) deserts him.
The love triangle develops some fissures leading to series of discussions and acrimonious verbal duals on ethics and ideals which keep the interest of the audience alive. Through the creative confrontation of script by actors, the play unfolds the complexity of relationships. Ranjana finally looks for a divorcee to be her partner.
The actors especially Meenu Sharma and Vijay Sharma stole the lime light.
Top Stories