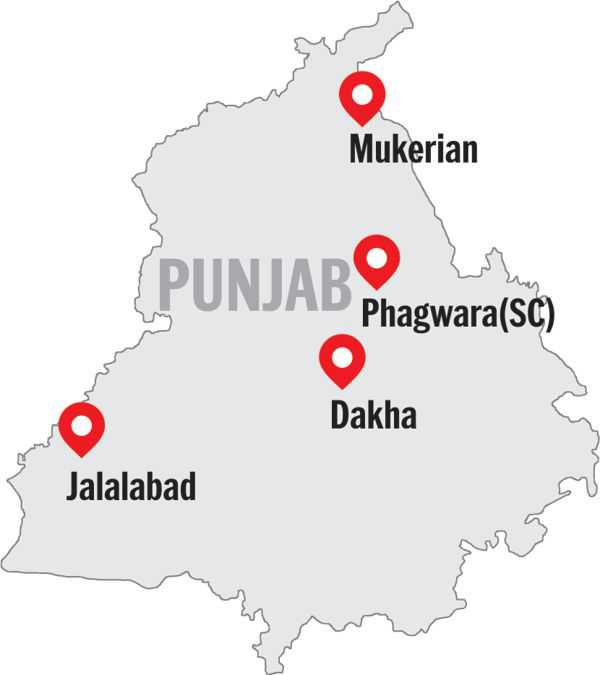 Harshraj Singh
Tribune News Service
Ludhiana, October 20
Around 1.84 lakh voters will decide the fate of 11 candidates contesting the bypoll from Dakha on Monday.
Drug menace, unsafe drinking water due to polluted Buddha nullah, unemployment, dirty ponds and lack of basic amenities are the major poll issues in the constituency.
There are 13 wards of Mullanpur — Dakha Municipal Council and around 110 villages that fall under this constituency.
Returning Officer Amarinder Singh Malhi said of the 220 polling stations set up across the constituency, 108 had been declared critical while 40 were vulnerable.
Blaming the Congress for allegedly misusing government machinery, the SAD as well as LIP have made separate requests to the Election Commission to deploy central forces at all polling stations.
Bachan Singh of the Bet area said, "Drug menace is still a major issue in various villages as many youngsters have lost their lives to it. We want that our future MLA must ensure drug eradication. Besides, Buddha nullah has polluted the Sutlej and the groundwater in the villages of the Bet areas. Many people living near the river and drain have suffered from hepatitis but the government has paid no attention towards the affected villages."
In various villages, the residents complained of dirty ponds, which are spreading unsanitary conditions. The government health centres in the constituency are also crying for attention, while the residents want that multi-specialty hospitals should be opened in the constituency. "We also want that the government must ensure jobs to the youth. Many of my friends have gone abroad for studies and settled there. It is a dire need to ensure jobs to youngsters or more families will be forced to sell their properties to send their children abroad," said Simrandeep Singh of Dakha.
The counting of votes will be held at Sudhar on October 24. District Election Officer-cum-DC Pradeep Kumar Agrawal said more than 400 security men of five commando battalions along with the CRPF would be deputed in the areas. The videography and webcasting will be ensured at all polling stations, he added.
Top Stories