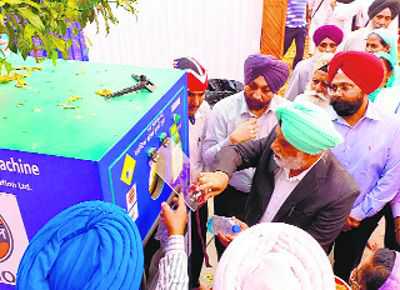 Aparna Banerji
Tribune News Service
Jalandhar, November 7
With the arrival of devotees averaging over 6 lakh to the holy town of Sultanpur Lodhi for the past two days, a mammoth sanitation network has been set up for the management of tonnes of solid and liquid waste being generated during the 550th Gurpurb celebrations.
As many as 4,500 safai sewaks, 2,400 dustbins and over 30 vehicles have been employed to effectively dispose 30 to 40 tonnes trash generated by lakhs of devotees each day. Meanwhile, a separate mechanism of the Water and Sanitation Department disposes 3,30,000 litres (66 tanks) of waste black water generated by 3,500 public toilets and tent city on a daily basis. The water is being ferried to the STP at Makhhu village – 35 km from Sultanpur Lodhi.
Also, two plastic-shredding machines were inaugurated on Wednesday at the Sultanpur Lodhi Bus Stand and outside Ber Sahib Gurdwara.
Senior environmental engineer, PPCB, Harbir Singh said, "A huge quantity of plastic bottles is being used at Sultanpur Lodhi. The shredding machines will ensure responsible use of these bottles. The machines have a capacity of 2,000 bottles and once the limit is reached, trash has to be taken out. This is then shifted to recycling plants in Ludhiana and Patiala. Two machines were started today and a third one shall be inaugurated within this week."
Meanwhile, executive officer, Local Government, Sultanpur Lodhi, Baljit Singh said: "Over 30 vehicles are picking up trash on a daily basis from 2,400 small and 60 big (4 cubic feet) dustbins. Drives were held earlier to prevent the use of plastic and now, the e-rickshaws and volunteers keep making announcements against its usage. All community kitchens are having honeycomb pits, where biodegradable waste is being disposed. The solid waste is being disposed at night on 5 acres on Lohian Road."
Top Stories