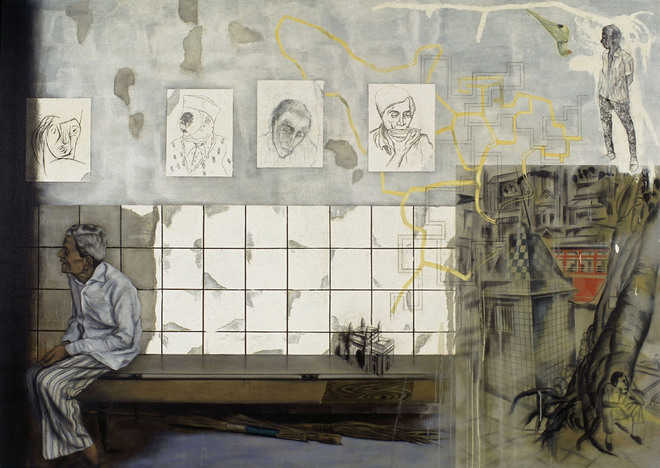 Rana Siddiqui Zaman
They have a sizeable presence in India. Nearly 75,000 out of a total population of 1.35 lakh globally. Yet, art lovers have barely seen an extensive exhibition of the creative fraternity of this 3,500-year-old Parsi community in India under one roof.
While theatreperson Ebrahim Alkazi had put up a comprehensive photo show of theatre at Lalit Kala Akademi recently, it had little to do with the Parsi community as such. Last year saw two book launches by Niyogi Books on India's first book of cartoons on Parsis, complied by author Prof Mushirul Hasan. One also got a glimpse of Parsi life in Rahul Dholakia's Parzania, which is set in the background of communal riots. A Parsi child Parzan is lost in the din and the parents keep searching for him for 12 years.
Such stray doses from the lives of the Parsi community often sprinkled intermittently, but they get dried up with time. But this time, an effort has been made to keep the memory of India's most prosperous, educated and culturally-driven Parsi community in the minds of people for a bit longer. Experts on the community, like Dr Pheroza J. Godrej and Firoza Punthakey Mistree, invited curator, critic and culture theorists Ranjit Hoskote and Nancy Adajania to bring all Parsi artists on one platform. And the result was "Painted Encounters — Parsi Traders and the Community", and "No Parsi is an Island", two art shows in one on the Parsi artist (not art particularly) paintings/ objects, and film shows.
The show briefly has paintings created by Parsi artists, and non-Parsi artists on the impact of the community, interesting objects, history, drawings, sketchbooks, some narratives, and poetry, some of which have never been seen before.
To begin with, the exhibition explores the emergence of a collection of portraits in the 18th and 19th centuries and ascribes its popularity to the rise of wealthy Parsi traders, who sailed to China to explore the growing trade opportunities offered by the East India Company.
Notably, the show indicates that the prosperous Parsi traders in Canton, emulating the British, used portraiture as a social device to procure a place in society and left an enduring mark in the history of their community. Aspiring Indian artists in Bombay, trained in the early art schools such as The Sir JJ School of Art and Architecture, established in 1857 by Sir Jamsetjee Jejeebhoy, were introduced to the world of European art.
The lifestyle and material culture of the Parsi community, depicted by carved furniture, porcelain, silks and embroidered textiles, juxtaposed with the portraits of merchants and their families forms an important part of the narrative. By the 20th century, the capital accumulated in the China trade was used by the Parsis to lay the foundation of Bombay as a global trade hub.
"No Parsi is an Island" proposes a curatorial re-reading of the work of 14 Parsi artists across 150 years, from Pestonji Bomanji (1851-1938) to Gieve Patel (b. 1940). This exhibition showcases the works of Parsi artists and presents, for the first time, their rich contribution to film, poetry, theatre, classical dance, crafts activism and children's literature. On display are never-before-seen sketchbooks, photographs and drawings selected from family archives.
The artists included names like Pestonji Bomanji, M F Pithawalla, Sorab Pithawalla, Jehangir Ardeshir, Lalkaka, Shiavax Chavda, Homi Patel, Jehangir Sabavala, Adi Davierwalla, Piloo Pochkhanawala, Nelly Sethna, Jean Bhownagary and Homi D. Sethna and Gieve Patel.
These artists engaged, variously, with colonial modernity, nationalism, Indian modernism and the globalised contemporary cultural space. Through friendship and collegiality, they developed enduring relationships outside their ethnic community. Thus, the inclusion here of non-Parsi artists like Sudhir Patwardhan, Anju Dodiya and Atul Dodiya, in relation to Gieve Patel's lifeworld, is noteworthy.
Ranjit shares why. "We wished to include a number of artistic positions, ranging from painters and sculptors to weavers and filmmakers," he says.
The works were mainly procured by family archives, private collectors, NGMA, Bombay, the Chhatrapati Shivaji Maharaj Vastu Sangrahalaya (CSMVS) and the Films Division, Bombay.
Notably, this exhibition is the second step in the direction of remembering forgotten art heroes of the Parsi community. The first iteration of "No Parsi is an Island" took place at the NGMA Bombay (2013-2014). The second iteration of this show in Delhi includes some additional works.
Interestingly, Pheroza Godrej and Firoza Punthakey Mistree co-curated "Across Oceans and Flowing Silks: From Canton to Bombay 18th-20th Centuries" on the material culture produced by Parsi traders and Sethias, who were involved in the maritime trade in Canton, China, as well as ship-building and banking activities in Bombay.
In this historical exhibition, the artists were chosen not simply on the basis of their ethnicity but, "we negotiated the ethnographic framework of this project, not to arrive at a notion of 'Parsi art' or the 'Parsi artist' but to reflect on how artists of Parsi origins had related themselves to larger social, cultural and political urgencies."
While adding that ethnicity is only one possible basis for community-formation; equally strong grounds for community formation are friendship, collegiality and collaboration.
And this was hence demonstrated through the decision to present Gieve Patel's work in relation to the work of his close and lifelong artist-friends Sudhir Patwardhan, Anju Dodiya and Atul Dodiya, who are non Paris.
The exhibition, which ends on May 29, shows a large projection of Delhi-based poet Keki N. Daruwalla's poem "Migrations", which addresses the diaspora and displacement unleashed by Partition. As a Parsi born in Lahore, Daruwalla layers the personal experience of the loss of a birthplace over the ancestral memory of a lost homeland. In his poetry, diaspora becomes the common heritage of many communities, and not the preserve of one community.
Secondly, a fascinating "expanded artistic practice" shows not only the studio production of paintings and sculptures, but also the gamut of contributions made by artists beyond or in parallel to the studio. These were annotated by the duo through rare archival material in this show, embracing the artists' contributions to theatre, cinema, publishing, advertising, poetry and children's literature.
For instance, it displayed, for the first time, the children's books illustrated by the abstractionist Mehlli Gobhai in the late 1960s when he was in New York. Gieve Patel's contributions to theatre and poetry apart from painting, is shown. Nelly Sethna, as a maker of inventive weaves and textile sculptures, but also as a crafts activist who was involved in the revival and transformation of kalamkari; and Shiavax Chavda as a painter but also as a fellow pilgrim of dancers and musicians contributing to Marg and the Illustrated Weekly.
Also notably, the artworks of forgotten sculptor Piloo Pochkhanawala have been presented as a cultural organiser, who conceived an arts festival and lobbied for the Bombay branch of the NGMA.
The second section of the show has films that are being screened. Two films by documentary filmmakers Jean Bhownagary and Homi Sethna have been borrowed from the Films Divisions archive. None of these films are about Parsi culture. In fact, they are about Parsi filmmakers, who were engaging with the larger political and cultural preoccupations of a national modernity. Bhownagary supported experimental filmmaking at Films Division in the 1950s and 1960s and shaped the aesthetic for filming the classical arts of India. His film Radha and Krishna (1957) on Pahari miniature painting is shown alongside Shiavax Chavda's sketches of dance performances in the exhibition. In I am 20 made by Films Division by Parsi team, generations born in the midnight summer of 1947, in their twenties, across the nation, speak of their aspirations, anxieties, choices they would make, etc.
The show is rich for its tapestry and sense of inclusion. As NGMA director Rajeev Lochan rightly pointed, "The Parsi community is an integral part of our national history and identity. Unfortunately, time and again, they have been regarded as others by many. This exhibition is crucial in highlighting that they are as much a part of our collective past, present and future".
Top News
India make historic 1-2 finish in triple jump | Women's hock...
Telangana Chief Minister K C Rao boycotts meeting, while Bih...
A red-letter day for the Indian shipbuilding industry, said ...
SSLV had lifted off from Sriharikota spaceport on Sunday mor...
Mandeep Kaur, who was tortured at the hands of her husband, ...