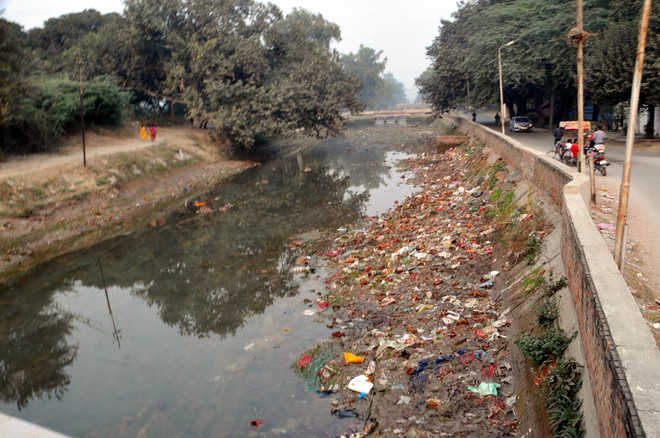 Sukhmeet Bhasin
Tribune News Service
Bathinda, November 19
The city is facing water scarcity these days as various areas are not getting the supply while some are getting lesser supply due to the closure of Sirhind Canal for maintenance work.
The Irrigation Department has closed the canal till December 7, due to which the Water Supply Department has cut the daily supply to the city by 50 per cent.
As much as 10.5 million gallons of water is supplied to the city every day. However, these days, only 5.5-6 million gallons water is being supplied.
With a majority of areas getting rationed supply, people are being forced to get up early to collect water that trickles down from the taps. Owing to the low supply, the pressure on the underground water is also increasing.
While the residents of low-lying areas are managing with the water supply, it is the residents of areas located on higher platforms who are the worst hit.
The situation would worsen in the coming days when the amount of stored water being supplied to the residents these days would decrease.
VB Shivangi, DGM of Triveni Company, said "Water supply has been cut due to Sirhind Canal closure and at present, we are supplying 5.5 to 6 million gallons water in the city".
An official of the Water Supply Department said, "We have stored water in tanks to provide it to the city resident for the next 20 days."
Mayor Balwant Rai Nath appealed to the city residents to use water judiciously to avoid its scarcity in the coming days. He also advised residents not to use water for cleaning cars or other vehicles and asked residents to cooperate with the administration till December 7.
It is pertinent to mention that councillors of various areas have been flooded with complaints of poor water supply.
The inadequate supply has forced residents to rely on underground water as many residents in these areas have installed motors to pump out underground water, which is unfit for consumption. Notably, the district is well-known for its contaminated underground water.
Top News
17-day rescue operation involved over 200 experts from vario...
Families of workers, most of whom are from Jharkhand and Utt...
The prime minister said the multi-agency rescue exercise has...
National Green Tribunal in 2014 imposed a ban on coal mining...
41 workers were trapped in under-construction tunnel on Diwa...