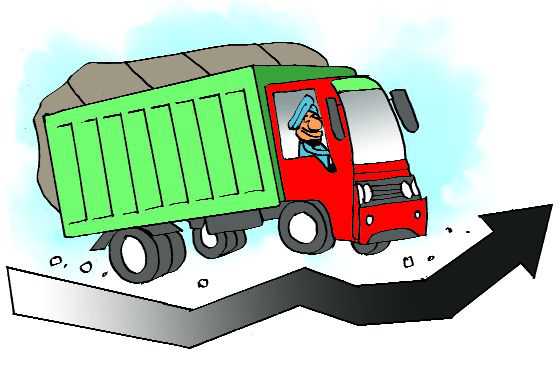 Vijay C Roy
Tribune News Service
Chandigarh, October 21
Transporters of the northern region, who were grappling with the slowdown in economy and low freight, have heaved a sigh of relief with the onset of festival and harvesting season, especially of paddy and apple crop. As a result, their fleet utilisation and freight have gone up in the region as compared to the rest of the country.
Besides propelling the demand for trucks, leading to high fleet utilisation of as much as 90%, these two factors also resulted in upswing in freight up to 20% in the past three months.
Typically, the demand for trucks is subdued during the first five months of a financial year, but this year has been an exception because of the slowdown.
"In the current fiscal till mid of July, the transporters were unable to utilise their fleet due to the absence of cargo because of the slowdown. The average fleet utilisation was 50-60% till three months ago. With excessive fleet availability and low freight, small truckers who dominate the market were finding it difficult to sustain," said Bajrang Sharma, general secretary, Chandigarh Transport Association.
"The past two months have been good for the transport industry as we witnessed a significant increase in demand as compared to previous months, mainly on the back of festivals and harvesting season. As a result, our fleet utilisation has gone up to 90% from 60% earlier," he said.
This increase is mostly on account of peak festival season cargo offerings and harvesting of paddy, cotton and arrival of apples from Jammu & Kashmir. He said this has also resulted in freight going up by 15-20%.
The truckers are of the view that the demand for trucks may remain high till mid of December because the farm sector is heavily dependent on transport industry.
All Punjab Truck Operators' Union president Happy Sandhu said, "Though Punjab has an excessive fleet capacity, the harvesting season has helped in increasing the fleet utilisation. But this demand is temporary and it will be over in few months. If the industrial production fails to pick up in the coming months, it will be difficult to sustain."
The transporters said since all sectors were in doldrums their fleet utilisation had been affected. Among the various sectors, there has been a slowdown in the real estate sector also which creates a lot of demand for trucks for the transportation of cement, steel, hardware and sanitary ware. The consumer electronics sector has also been hit by the slowdown, thereby indirectly affecting the freight utilisation.
As compared to the northern region, the fleet utilisation in the rest of the country has improved to 65-70% mainly on the back of festival season.
All India Motor Transport Congress' general secretary Naveen Kumar Gupta said, "The festival season has propelled the demand for trucks in the country. There has been an improvement in the fleet utilisation to 60-70%, but the industry has still not reached the level it saw last year. Even the freight is more or less same as compared to last year."