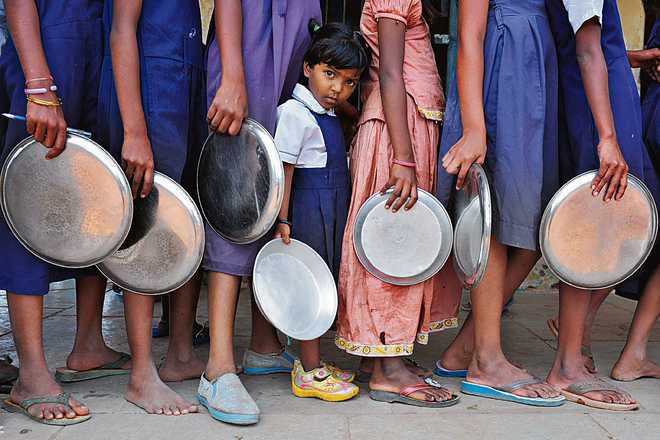 Prem Chowdhry
Author and academic, Delhi University
It was journalist Pawan Jaiswal who recently exposed that the children, studying at a government school in Mirzapur district of Uttar Pradesh, were eating chapatis with salt. This turned into a major controversy on the mid-day meal scheme (MDM) countrywide. The National Human Rights Commission (NRHC) at once issued a notice to the Uttar Pradesh government in this regard.
The mid-day meal scheme was implemented by the Central government on August 15, 1995. Under this, students of government and state-aided primary schools from class I-V were provided 3 kg of wheat or rice. However, it was observed that the benefits of the scheme did not completely go to the students and the grains were distributed among their family members. Therefore, to make the scheme student-focused, the Supreme Court directed the Centre and the states to implement the mid-day meal programme in the form of cooked meal in primary schools. In 2004, it also passed an order stating that the basic entitlement of every child in every government and government-assisted primary school for a mid-day meal was 300 calories and 8-12 gram of protein each day of school for a minimum of 200 days.
Jaiswal's expose prompted afresh the complaints against the apathetic implementation of the MDM. In UP, a 2012 report of the Giri Institute of Development Studies, Lucknow, had already criticised the scheme by firmly maintaining that there was "irregularity" in the implementation. It had also stated that the daily menu did not include wheat, pulses and vegetables.
Presently, the mid-day meal scheme in India is the world's largest school lunch programme, reaching about 113 million children in over 1.26 million schools across the country, with an investment of more than Rs 10,000 crores. The scheme aims at mitigating social inequalities inherited through the hierarchical division of society, or what is called the 'resilience of social structures'. This structural discrimination directly impedes equal access to benefits of development by excluding the poor and the marginalised. The education sector in India continues to work under gender inequality, caste issues, corruption, lack of quality and also malnutrition.
MDM was to give boost to the universalisation of primary education and to impact the nutritional intake of students in primary classes. Despite the broad-based efforts of the Central government for more than a decade and half as well as its revision in 2004 and a few other pioneering efforts, the problem of malnutrition, anaemia, deficiency in Vitamin A and iodine is very common among children in India. Government surveys point out that today, 94 per cent of the children in the age-group of 6-9 are mildly, moderately or severely underweight. About 67.5 per cent of the children under 5 years and 69 per cent of the adolescent girls suffer from anaemia due to iron and folic acid deficiency. The incumbent government at the Centre has emphasised the implementation of MDM in its common minimum programme. Importantly, it also mentions the setting up of an appropriate mechanism for quality checks.
Despite all this, MDM still means 'chapatis with salt' for these children. Where have we failed ? An analysis of the problem unearths certain basic ills that need to be corrected urgently. For example, at many government schools in the district, noon meals are being cooked next to lavatories, abandoned houses, under trees, on roads and even close to the drains, because these schools do not have kitchens. Schools also do not have enough cooks and helpers to implement the scheme. Investigation reports have found that the mid-day meal continues to contain cockroaches, lizards and earthworms, and also remnants of insecticide, leading to tragedies in various states. For example, recently in a government school in Rajasthan, 76 students fell ill after consuming their meal in which a dead lizard was found. Several such instances in other states can be quoted.
However, the comparison of attendance rates across gender depicted a better participation of girls than that of boys. The difference between the enrolments of girls and boys is of one-third proportion in schools. Mid-day meal has improved school enrolments of these girls and has also helped in improving their attendance. Teachers and parents attribute this improvement to the provision of free hot meal. Many parents, especially from the disadvantaged groups like SCs, STs, OBCs and adivasis send their girls for free cooked meal which helps bring them to school.
Even so, the girls, though enrolled in schools, have an irregular attendance. This is one of the key factors responsible for the poor performance of girls in school. Irregular attendance, as commonly observed, is due to the household burden of girls. Many drop out in between the primary school stage and remain illiterate.
The practice of gender disparity in food allocation is well known in the Indian context. Economist Amartya Sen observes: "At the time of birth, girls are obviously no more nutritionally deprived than the boys. But this situation changes as society's unequal treatment takes over from the non-discrimination of nature." Many families serve food first to boys and then to girls. The best food in the family will be served to the male members at home and this practice has existed in Indian society from time immemorial. This lesson is imbibed by the girls early and consequently they follow the same pattern when they grow up. Gender discrimination in Indian society comes from family to the education sector.
Children from the SC and ST groups are also made to sit away from upper castes. In some cases, they are not given food or are served left-overs. There are also several cases reported regarding food being thrown away or declined if cooked by women belonging to SCs and STs. Currently, while separate cooks are assigned for meal preparation, the teachers have to spend their time to serve food to the students. Often, the hour-long recess is not enough for the teachers to serve food and have their own meals as well. Therefore, the provision of giving meals to the students is taking place at the cost of study time.
A committee was set up to oversee, assess the impact and provide policy advice to Central and state governments. Yet, the problem persists. The one option to rectify this would be to partner the delivery of MDM scheme with voluntary organisations like NGOs and other private efforts. Aanganwadi workers could also work in organizing healthier groceries for children. The panchayats/urban local bodies in charge must be held responsible or fined heavily for negligence. In other words, those in charge of implementing must also be monitored.
If properly implemented, MDM can play a big role in improving school attendance, literacy rate, eliminating classroom hunger and fostering social equality through co-eating and joint food preparation for children belonging to different religions and castes.
Top Stories