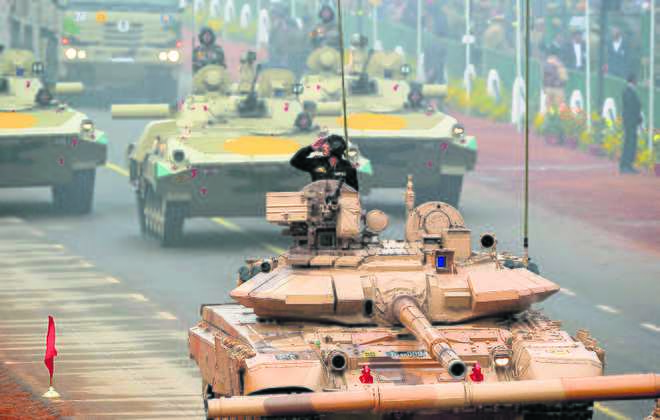 Pravin Sawhney
Strategic Affairs Expert
IF the government continues to let the Ministry of External Affairs (MEA) run its defence exports policy then instead of strengthening the defence industry ecosystem, several Indian public sector companies will have to downsize, if not completely shut down their businesses. This will be a negation of Prime Minister Narendra Modi, who had pitched the defence industry at the heart of his Make-in-India clarion call while inaugurating Aero India 2015.
For example, once Hindustan Aeronautics Limited (HAL) completes Indian Air Force's Su-30MKI fighter contract in the next three years, its production line will become idle and many of its 70,000 employees would be rendered jobless. The IAF's new fighter programme will take several years before HAL starts manufacturing them, and even then it will be a finite number. BrahMos Aerospace, which has three production lines in Hyderabad and Nagpur, will face the same eventuality in the next couple of years once it completes the cycle of production for the Indian armed forces. It will be the same story with Bharat Dynamics Limited and Bharat Electronic Limited.
Worldwide, defence industries survive on exports. Domestic business, a euphemism for government orders, is always limited. Hence, to keep the industry solvent, as well as competitive, all global defence companies have to find markets outside the home country. This is a cold business model, which oils the economy and creates jobs. Such is the importance of this sector that in many nations, defence exports get the three-prong support of the government, its diplomatic and military corps.
Govt fear imaginary
Not so in India, where imaginary fear has gripped the government as far as exporting defence equipment is concerned. In the last few years, several Indian public sector companies have attracted buyers. Vietnam, the Philippines, Indonesia, Mauritius, Sri Lanka, Bangladesh, UAE, Oman, Afghanistan and Egypt have shown interest in buying India's Akash and BrahMos missiles, in addition to warships, Pinaka multi-barrel launcher, Light Combat Aircraft, off-shore patrol vessels, Embraer-based Airborne Early Warning and Control aircraft and so on. Sadly, all export-related conversation died in the conceptual stage itself because the MEA advised the government that selling of defence equipment to friendly nations may aggravate nations we are trying to be friends with.
For instance, the MEA worries that selling arms to ASEAN may annoy China, to the middle-eastern nations may complicate ties with the US, and to Afghanistan may further jeopardise the delicate equation with Pakistan! Adding to this are the ideological reservations about doing defence trade with Muslim nations.
No one in the government has bothered to question the basis of this diplomatic paranoia. Does China factor in Indian sentiments when it sells arms to our neighbourhood? Or, has it prevented Russia, India's trusted friend, from selling arms to Pakistan? Or, did the US ever stop selling arms to Pakistan even as it started cultivating a strategic partnership with India? While certain defence exports do have geopolitical implications, most are essentially commercial activities.
Defence export targets
Interestingly, the Modi government had set lofty defence export targets. In 2016, when exports stood at Rs 2,060 crore (mostly non-lethal items), Defence Minister Manohar Parrikar claimed that they would increase to $2 billion by 2019. In April 2018, Minister of State for Defence Subhash Bhamre revised the export target to Rs 35,000 crore ($5 billion) by 2025.
Encouraged by the Modi government's assurances, the DRDO chief S Christopher had in February 2016 told me that since the Defence Ministry did not have a commercial arm for the facilitation of exports, he had asked BrahMos chief Sudhir Mishra to suggest how the DRDO could sell its products. According to him, "If we are able to satisfy the user with the Mark-I products that we have made, we should be able to export the same to other countries when we develop Mark-II version. Especially, when there are several countries in India's extended neighbourhood that are looking for our products."
India has buyers
The smaller nations in India's neighbourhood and ASEAN are happy buying arms even if they have still not been accepted by the Indian defence forces because (a) they would be competitively priced (b) they need arms for purely defence needs (state-of-art equipment is required for offensive posturing), and (c) they expect the equipment's life support to be affordable and cost-effective.
Perhaps, it was the growing demand for Indian armaments that led the government to instruct 29 Defence Advisors (DAs) posted in the neighbourhood and ASEAN to attend the Defence Exposition held in Chennai in April 2018. In a first, the DAs were to (a) interact with defence delegations of their accredited nations to understand their requirements, (b) see for themselves the platforms and technologies on display, (c) interact with private defence vendors to know their capabilities, and (d) get official briefing on the defence production policy in order to get clarity on their role as facilitators of defence exports.
Nothing came out of the exercise. Not because the DAs failed in their task, but because the government (on MEA's advice) developed cold feet. Subsequent queries by the DAs were stonewalled. In the last few months, two DAs I met informally have said as much to me.
To be fair, the joint secretary responsible for Defence Industry and Production (DIP) also looks after the export promotion cell. But he cannot do much unless there is clarity from the government. Export of finished products is the litmus test of any industry. The capability to export defence equipment is not only an acknowledgement of our industrial efficiencies, it is also a spur to professionalism.
Once Indian public sector companies start to execute export orders, the market forces will compel them to bring in quality, cost and deadline efficiencies. Moreover, increased production would bring down the price, which will help Indian users too, who ironically, are forced to pay a higher price for indigenous equipment!