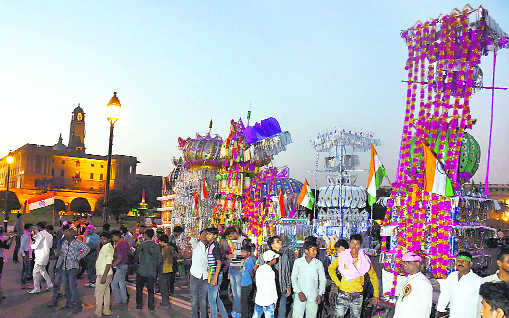 New Delhi, October 12
Muharram was observed peacefully in various parts of the city today with heavy police deployment in sensitive areas like Trilokpuri and post sundown traffic jam as several processions made their way to south Delhi's Jor Bagh.
Members of the Shia community rent the air with slogans of 'Ya Hussein' during the ceremonial mourning of the martyrdom of Prophet Mohammed's grandson Imam Hussein while Sunnis also offered prayers, observed fasts and distributed alms on the occasion.
On this day, Muslims remember Hussein who died fighting the forces of caliph Yazid around 1,400 years ago at Karbala in Iraq.
Several tazia processions, taken out from various parts of the city, culminated at Karbala in Jor Bagh in south Delhi. Brigadier Hoshiyar Singh Marg to Aurobindo Marg was closed for traffic movement in view of this.
Police officials said there was tight security cover in all districts in the wake of the terror alert issued by intelligence agencies.
"There was heavy security cover on all stretches that see tazia processions. Cops were deployed in Trilokpuri that had recently witnessed a clash between two groups.
"Police officials of the district held meetings with peace committees before Muharram to take stock of the situation," said a senior police officer.
Processions passed through several old Delhi regions, affected traffic flow in areas like Paharganj bridge, Ajmeri Gate, Chelmsford Road, Connaught Place, Parliament Street, Red Cross Road, Tughlak Road and Aurobindo Marg.
Traffic was heavy on Rani Jhansi Road, Rohtak Road, Kamal T Point towards Zakhira owing to tazia processions.
Areas like Old Delhi's Chhota Bazar, Bara Bazar and Shia Jama Masjid areas, the ITO junction, Okhla, Nizamuddin and Mehrauli areas also witnessed traffic jams.
The Delhi Traffic Police also put traffic diversions in place owing to the processions.
Roads between Madarsa T-point and INA, Moti Nagar and Inderlok, Zakhira and Inderlok were closed for tazia processions and diversions were put in place around Connaught Place and Ring Road.—PTI