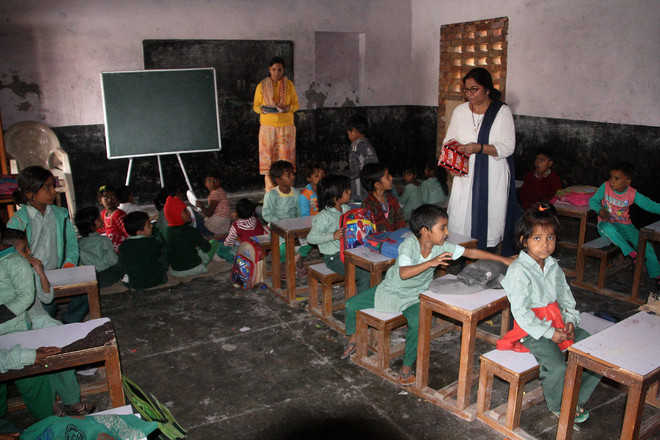 Sunit Dhawan
Tribune News Service
Rohtak, November 16
The authorities concerned swung into action a day after the publication of a news item in these columns regarding the inordinate delay in the construction of Government Girls' Senior Secondary School at Kharawar village in Rohtak district. The old building had been demolished over a year ago.
The news report published yesterday had pointed out that the funds for the construction of the new building of the school had been sanctioned nearly 10 months ago, but the construction work had not started. "After the publication of a news item highlighting the plight of girl students in The Tribune, a team of officials of the engineering wing visited the site of the demolished school building and conducted a survey to start the construction," said Capt Jagvir Malik (retd), chairman of the Village Education Council.
Due to the inordinate delay in starting the construction, the girl students of Classes I to XII had to be accommodated in the classrooms of the adjoining building of Government Senior Secondary School despite the space crunch.
Capt Malik maintained that more than 70 girl students had dropped out of the school due to the congestion and inconvenience faced by them due to the merger of their school with the boys' school.
Rajbir Singh, a social activist of Kharawar village, pointed out that Rs 1.97 crore was sanctioned for the construction of the school building in January. "However, the project was caught up in technical tangles and remained a non-starter. The survey conducted after the publication of a news report regarding the matter has rekindled our hopes that our efforts towards the construction of the school building will bear fruit," said Rajbir.
Top Stories