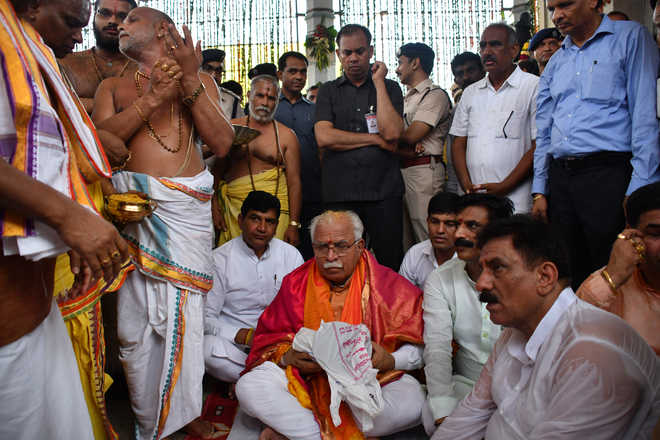 editorial@tribune.com
Tribune News Service
Kurukshetra, July 1
For thousands of devotees from North India who don't have enough resources to visit the famous hill temple of Andhra Pradesh (AP), there's a good news – Shri Venkateshwara Swami temple, famously known as Tirupati Balaji and dedicated to Lord Vishnu, was opened to the public here on Sunday.
A battery of priests from AP performed the idol installation ceremony for four days before making it open to the public.
Chief Minister Manohar Lal Khattar was among the key persons to visit the shrine. He held special prayers in the sanctum sanctorum of the temple.
Khattar said the Tirupati Temple would give a big boost to religious tourism in Kurukshetra and the state government would make coordinated efforts to promote the shrine.
Khattar said Tirumala Tirupati Devasthanams (TTDs) that manage the country's richest temple of Tirupati in AP had spent Rs 34 crore for this shrine.
About 1,500 tonnes of seastone were brought from Tamil Nadu to complete the temple's replica in the holy city here, he added.
In January 2012, the Kurukshetra Development Board (KDB) had allotted 5.52 acres near the iconic Brahma Sarovar, the city's landmark.
It took about five years for hundreds of artists and workers to construct the fort-like temple.
The TTD is run under the supervision of the AP Government with a panel of members from diverse fields. Donations are used by the Trust for running several healthcare, environment conservation and education projects.
The TTD authorities said they had a plan to construct Tirupati temples in every city with more than 10 lakh population.
Of the total budget of Rs 34 crore, a London-based entrepreneur-philanthropist Nirmal Sethia has reportedly volunteered for the remittance of Rs 12 crore.
The TTD has a history of being managed by the government and before Independence, it was controlled by the British government.