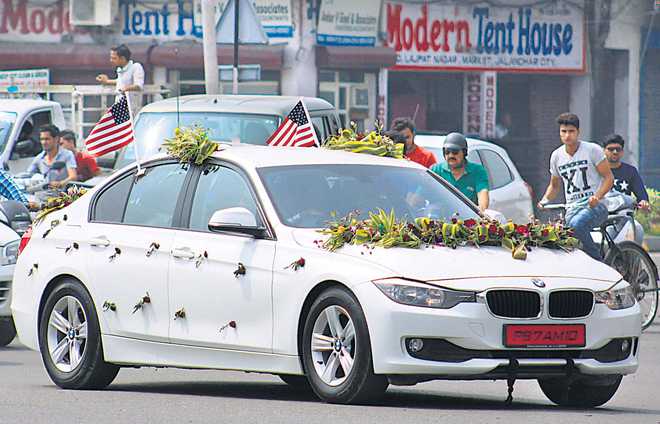 Reicha Tanwar
Former Director, Women's Studies Research Centre, KU
MARRIAGE is considered to be a relationship of love, affection, care and concern between the two spouses. Falsehood, adultery, cruelty and desertion are destructive of its foundations, necessitating social as well as legal interventions. Marriage is a sacrosanct social institution with an element of a legal contract.
There has been a rise in cases of Indian women being deserted after marriage or tricked into fraudulent marriages by husbands and their families who are residents of a foreign country.
How severe the problem is and how it impacts the women came to fore when I was confronted with complaints as a member of the District Family Welfare Committee, set up by the Supreme Court to monitor te misuse of Section 498A. From January, 2015 to November, 2017, the MEA received 3,328 such complaints. Most of the complainants were from Punjab, Andhra Pradesh, Telengana followed by Gujarat. On an average, at least one woman married to an NRI calls home every eight hours, seeking help to return after being deserted by her husband or because of reasons like ill-treatment and physical torture. These figures are a tip of the iceberg as there would be an equal number of cases which are reported only to the district courts or not reported at all.
Divya (name changed), MTech, was married to a boy in Canada who was from a well-respected, educated family of Haryana. The girl's family was told that the boy was an engineer with an MBA and a permanent resident of Canada and he worked with a private company in a senior capacity. The boy and his family left for Canada one month after the marriage as it was said that the boy had only one month's leave. They said the documents for the girl to join them in Canada had been submitted to the embassy and she would be able to travel in a month or so. But it took her nearly 10 months to get the visa. Whenshe reached Canada, she discovered that the boy was a school dropout and he worked as a pizza delivery boy. The boy and his family started harassing her, telling her to ask her parents for money for her husband to establish a business. Out of a sense of responsibility to her parents who had spent lavishly on her wedding, the girl did not reveal her plight to them. It was only when she had given birth to a daughter and the in-laws turned her out of their house one wintry evening that she gathered the courage to spill the beans. Her parents arranged for her stay with some friends in Canada. Her father lodged a complaint with the local police in India but since none of the family members of the boy were in India, the case could not be pursued.
Manjit (name changed), BSc, BEd, was married to a boy from Germany. The groom's family said that he had a petrol pump and a grocery store and he was a permanent resident of Germany. After the lavish wedding arranged by the bride's family, the boy left for Germany, saying that processing of her visa application would take around two months. After he had left, Manjit discovered from his extended family that he was already married to a German lady and had an eight-year-old daughter. Her husband returned after one and a half years and did not bother to even speak to her. Manjit also found out that her husband was working as a truck driver. She realised that he had married her only to please his family and had no intention of taking her along.
These cases are typical of the fraudulent marriages by NRIs. Now the question is why the boy's credentials were not verified by the girl's family. In India, marriages are usually arranged by relatives and friends and, therefore, the parents do not go in for verification of facts, because of the fear that the relationship may break. The marriage is arranged on the basis of trust in the 'bicholiya' or 'middle person' who arranges the relationship. There is also a sense of desperation of the parents to marry the girl at the right age to the right boy of their own caste/community. Then there is the fascination for a foreign land which has an aura of a luxurious western lifestyle which most NRI families paint when they visit India.
Also, often, most marriages to NRI boys are arranged in a hurry as the family of the boy insists that the groom has limited leave. The victims of such marriages are from both urban, progressive, educated families as well as rural, semi-literate backgrounds. The Punjab-based Lok Bhalai Party estimates that over the last decade, there have been more than 20,000 cases of abandoned wives in the state. In fact, every village has several girls who have such a tale to narrate.
Notably, the number of marriages coming up in dispute is increasing at an alarming rate. A major issue for the break-up or discontent in marriages is money which in turn is connected with consumerism, being projected by market forces.
The government has set up various mechanisms to deal with the problem. The NCW has an NRI Cell which is the coordinating agency at the national level for dealing with issues pertaining to NRI marriages. There is a need to address the difficulty and consequent delay in serving judicial processes issued by Indian courts through the Indian missions abroad. Also, there is need to develop mechanisms to enable a quick tracking of NRIs/PIOs in case of desertion. Some state governments have established NRI Cells in the Police Headquarters to deal with such cases. Punjab has an NRI wing at its headquarters in Chandigarh and six sub-division offices and 15 NRI police stations.
But the bottomline remains that the parents of girls looking for matrimonial alliances in foreign lands need to take extra precautions. Among other things, technology could be of help.
Top News
Resolution gets the backing of 13 Council members, while the...
The written answer to unstarred question number 980, uploade...
Punjab Police tell Punjab and Haryana High Court that the in...
Move comes day after Ali walked out of Lok Sabha proceedings...
The tax department has deployed about 40 large and small mac...