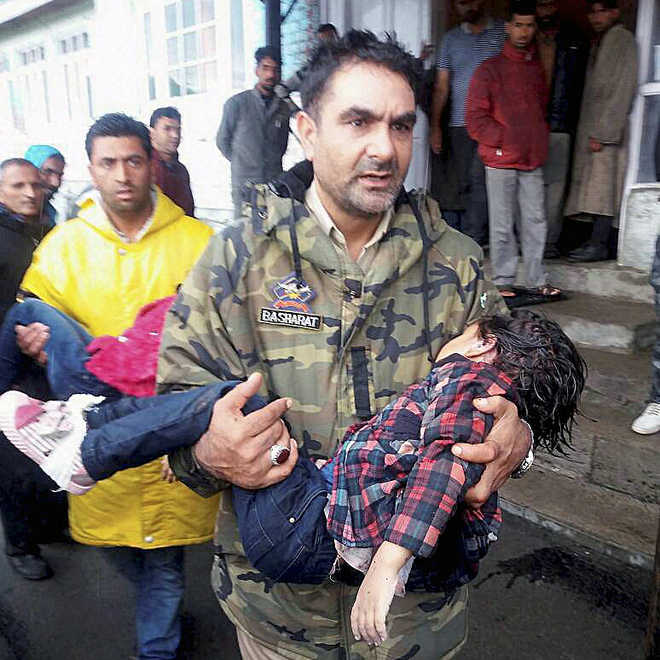 Tribune News Service
Srinagar, June 25
Seven people, including four of a family from Delhi, were killed on Sunday when a Gondola car crashed after being hit by a tree uprooted by strong winds in Gulmarg, police said.
An uprooted pine tree hit a Gondola car cabin and it crashed hundreds of metres down to the ground.
(Follow The Tribune on Facebook; and Twitter @thetribunechd)
"Seven people, including four from a Delhi family have been killed in the accident," a police officer said.
The family hailed from Delhi's Shalimar Bagh. They have been identified as Jayant Andraskar, Manshea Andraskar and their daughters — Anagha and Janhvi.
Read: Tragedy hits Delhi family holidaying in Kashmir
Three people from Kashmir -- Mukhtar Ahmad, a resident of Chonti Patri Babareshi, and Jahangir Ahmad and Farooq Ahmad Chopan, both residents of Tangmarg -- were also killed in the accident.
Two others, Tariq Ahmad and Ajaz Ahmad, both residents of Pachhar, were injured and were taken to a hospital in Srinagar.
All the five locals were said to be working as tourist guides in Gulmarg in north Kashmir's Baramulla district.
"Police have launched a rescue operation in the forest area," Baramulla SSP Imtiyaz Hussain Mir said.
Police rescue stranded people
Police rescued about 150 people who were stranded due to the snapping of a cable car ropeway.
With the help of locals and all-terrain vehicle operators, police rescued about 150 stranded people, an official said.
He said the people were stranded in other cable cars after the ropeway was snapped by a falling tree which was uprooted by strong winds at the resort.
Meanwhile, the Jammu and Kashmir government has ordered a high-level inquiry into the cable car incident.
Jammu and Kashmir Chief Minister Mehbooba Mufti announced this as she expressed grief and shock over the deaths.
Mufti, who was herself monitoring the rescue operations, also announced ex-gratia relief of Rs 5 lakh in favour of the next of kin of the deceased, an official spokesman said.
He said the chief minister also directed a high-level inquiry to find the causes or lapses, if any, that led to the accident.
Former Jammu and Kashmir chief minister Omar Abdullah questioned why the cable car service had not been shut down as a precautionary measure because of high winds.
Heart breaking images coming out of #Gulmarg 💔. What a tragic way for a family holiday to end. Can't sympathise enough with the families.

— Omar Abdullah (@abdullah_omar) June 25, 2017
"What terrible news," he tweeted.
"...it begs the question as to why the cable car operations weren't suspended in high winds. That's a laid down SOP [standard operating procedure]," he posted on Twitter.
The two-stage Gulmarg cable car lift ferries people to a height of 13,780 ft above the sea level.
It is the world's second highest operating cable car project with a cabin capacity of ferrying 600 people in one hour. — With agency inputs