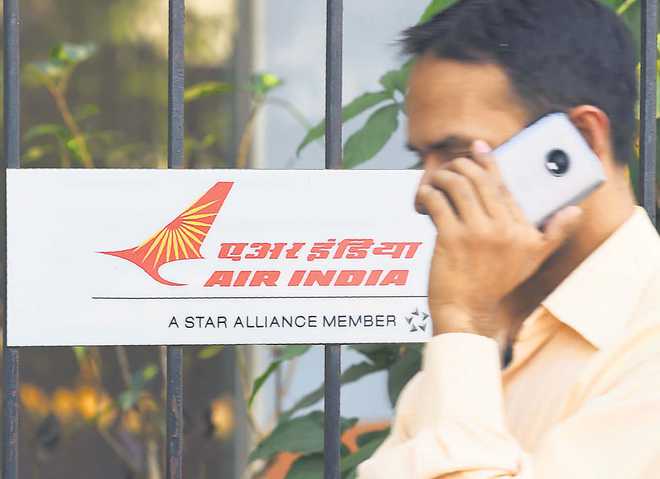 Sushma Ramachandran
AS disinvestment of Air India seems set to become a reality, political leaders are voicing concerns. West Bengal Chief Minister Mamata Banerjee is worried about the country selling off its "jewels", while BJP leader, Subramanian Swamy is watching closely to ensure a scam does not take place. Some fears are not misplaced as the government is in the process of selling an entity that has enormous value in terms of physical assets as well as human resources.
The sad reality is that as a government company it has not been able to operate profitably and saddled the exchequer with a huge debt burden. The failure of airlines to operate profitably as so-called national carriers is a global phenomenon and not confined just to this country. British Airways, Lufthansa, Alitalia and many others have been privatised over the years for much the same reasons. Public sector airlines have not been much of a success. In the case of Air India, the problem was compounded by the disastrous decision to merge it with the erstwhile Indian Airlines, creating an unwieldy giant.
The disinvestment process is taking place at a time when there has been a quantum leap in the amount of passengers travelling by air. Over the past six years, the number of persons travelling by air has already risen from 60 million annually to 117 million. With an 18 per cent growth in passenger traffic recorded in 2017, the share of air in combined air and rail travel is set to rise to 15 per cent by 2027, as against nearly 8 per cent currently. Aviation companies are already gearing up to meet the higher demand volumes by ordering large numbers of aircraft from abroad. The existing domestic fleet of 548 aircraft is set to be augmented by another 920 by 2025. The net result will be that India is poised to become the third largest airline market after the US and China over the next decade.
These are big developments for the civil aviation industry in a country that once was dominated only by a single public sector airline. The domestic skies have undergone a revolution of sorts. What is more important, however, is that these changes end up providing a more efficient and cost-effective mode of travel for business and pleasure.
As far as consumers are concerned, the plus point of having many private players is that basic prices have reduced but there are several additional costs now imposed by airlines. A few years ago, it had become possible for potential rail travellers to shift to air by just spending slightly more for their fare. This situation no longer exists as fares between most major cities have now become volatile depending on demand and seasonality. In addition, the so-called budget airlines have begun charging extra for seat selection while cutting back on luggage allowances and charging hefty cancellation fees. In fact, it is often becoming more economical to travel by the full service airlines owing to all these additional expenses.
The government's stated aim of getting more middle class people to travel by air has thus not been achieved so far in the major metros. Though passenger traffic has risen steeply, air travel remains the purview of the affluent in these areas. But it clearly is making an effort to bring about cheaper airfares in regional areas. The new regional connectivity scheme entitled UDAN, which aims to connect second-tier cities all over the country as well as hilly and remote areas has entered its second phase. Half of the seats in every flight will have to be sold at the discounted rate of Rs 2,500 for hour-long flights. The initial bids for the routes only attracted Air India and SpiceJet but Indigo and Jet Airways have also joined in the second round. The snag is the scheme depends on subsidies and such programmes are generally not sustainable in the long run. Unless these flights become profitable in the medium and long term, it may become difficult to continue charging such subsidised fares. Earlier governments have also formulated schemes to provide subsidies on flights to hilly areas but these have had a limited impact. The plus point of the new scheme, however, is that it is being linked to a revival plan for small airports which could make it more viable.
The many new developments in the aviation industry are thus coinciding with the decision to privatise the largest airline, Air India. Despite its size and all the talk of it being one of the "jewels" of the government, the public sector company's market share has fallen far behind those of private companies. It has a paltry 13 per cent share of the domestic air passenger market as compared to 40 per cent with Indigo. It also has an outstanding debt burden of roughly Rs 40,000 crore. The sale of 76 per cent stake will thus be an extremely complex issue but is clearly the only way to deal with this albatross weighing down the government exchequer. There may be concerns over the validity of the process, given the history of scams in this country, but this is clearly a step that has been long overdue.
The sale of Air India, the rapid rise of passenger traffic, and the development of regional connectivity programmes are all factors leading to a dramatic change in the contours of the civil aviation sector in this country. To add to the mix is the latest issue of flight safety involving A320 neo aircraft which have been grounded by the regulator, DGCA, which has rightly accorded the highest priority to safety in taking its decisions.
The question is whether these changes will lead to an improvement in passenger facilities, reduction in airfares and better services. Or will it mean better profitability for the airlines, less space and higher charges for passengers, as is happening in several developed countries. The Civil Aviation Ministry must monitor these developments and ensure that consumers are given a good deal by private airlines that have been able to operate in a liberalised environment in recent years. The time has come for the passenger to be given the highest priority by the aviation industry so that more of the middle class can afford to travel by air and do so in comfort and safety.
Top News
In Mizoram, Zoram People's Movement is locked in close race ...
According to Defence Ministry, 98 per cent of the total proc...
India has constituted a probe team to investigate allegation...
Nikhil Gupta, 52, has been charged with murder-for-hire in c...
GDP growth in the first quarter of current fiscal — April-Ju...